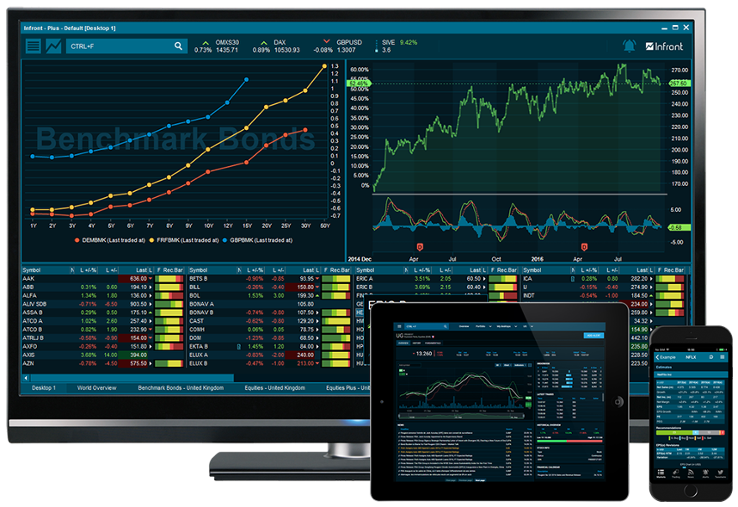 This partnership offers customers the best of two worlds by combining Infront's cutting-edge financial terminal technology with the high-quality global reference and market data of SIX. Users of SIX Edge and Starweb will be migrated to the Infront terminal powered by the extensive database of SIX. This partnership extends to Infront clients who will receive SIX data going forward. Furthermore, the news agency SIX News merges with Nyhetsbyrån Direkt to create the leading financial news agency in the Nordics, owned by the Infront group. SIX will be a redistributor of news from Nyhetsbyrån Direkt to serve SIX clients with high quality real-time news for the Swedish market.
Infront and SIX Financial Information will cooperate closely to ensure a smooth transition for end users of SIX Edge. In the upcoming months, all customers will be contacted to plan the upgrade to the new Infront terminal.
This strategic alliance allows Infront and SIX to draw on each other's expertise. SIX Financial Information will be able to further expand its client base in the Nordic market and strengthen its position as a data provider in this region while relying on Infront's technology. This move also allows SIX to better focus on its core business, fully in line with the company's strategy. Infront gains a unique position in the Nordics with the most comprehensive base of market data, leading financial news and the best financial terminal on the market. Together with its prevalent Nordic estimates and analytics solutions, this contributes to making Infront one of the major Fintech players in Europe.
"Our aim is to provide the financial industry in the Nordics with the highest-quality data while focusing on our core business. The combination of SIX data and Infront technology will be of high value to our mutual clients", states Robert Jeanbart, Division CEO SIX Financial Information.
"Being in a highly competitive market with strong global players, we see the need to cooperate to create one leading Nordic player of financial terminals. This is a great opportunity to strengthen our efforts in the Nordic countries and build more local knowledge and expertise. Our superior technology in the Infront terminal, together with better content and additional exchanges, strengthen our position as the number one choice for Nordic finance professionals", concludes Kristian Nesbak, CEO in Infront.
Contacts:
SIX Media Relations Alain Bichsel T +41 58 399 2675 pressoffice@six-group.com
INFRONT Media Relations Diana Myrstad T +47 45 874 927 myrstad@infront.no
About SIX Financial Information
SIX Financial Information is a global provider of top-quality reference and market data to the wealth and asset management industry and has more than 86 years of experience in serving the financial information industry. We collect and aggregate real-time data from 1'500 global sources to deliver a database of 20 million instruments, covering a broad base of asset classes and all major trading venues. Our unrivalled breadth of data enables our clients to fulfil regulatory compliance in a cost-effective, efficient way that helps them grow their business. Offices in 24 countries and a strong partner network allow us to combine local expertise with global reach to offer value-added services.
Financial Information is one of four business areas of SIX which offers global premium services in securities trading, clearing and settlement, payment transactions, and financial information. www.six-financial-information.com
About Infront
Infront is an advanced market information and trading platform for professional investors. It provides a unique combination of real-time global market data, news, analytics and powerful trading tools. Infront's terminal, mobile apps and versatile electronic trading solutions connects thousands of professional users across Europe to their local and international markets – helping financial institutions to reduce costs and work more effectively. Infront owns Nyhetsbyrån Direkt, TDN Finans and Infinancials. To find out more please go to www.goinfront.com or follow us on twitter @goinfront.