Free trial
Take a free trial and see for yourself!
Seeing is believing. Take the opportunity and put our products to the test with a free trial. Currently you can test run the Infront Professional Terminal and Infront Analytics as well as the Infront Investment Manager. 
Try it for free - no strings attached
It's quick and easy to set up a free trial so you can get started right away. And there are no obligations or fine print - just a chance to test the functionality and usability hands-on. You won't be disappointed.
See which products you can take for a trial run below.
Infront Professional Terminal
With your entire workflow in one single terminal, you can discover, analyze and trade global financial markets in a heartbeat. The Infront Professional Terminal comes packed with real-time global market data and razor-sharp analytics so you can be on top of every investment opportunity. Powerful search tools, clear menus and an intuitive workflow make it easy for you to find what you need so that you take smarter decisions and act on them faster. Take a free trial and find out why professional users are replacing their legacy terminals with the Infront Professional Terminal.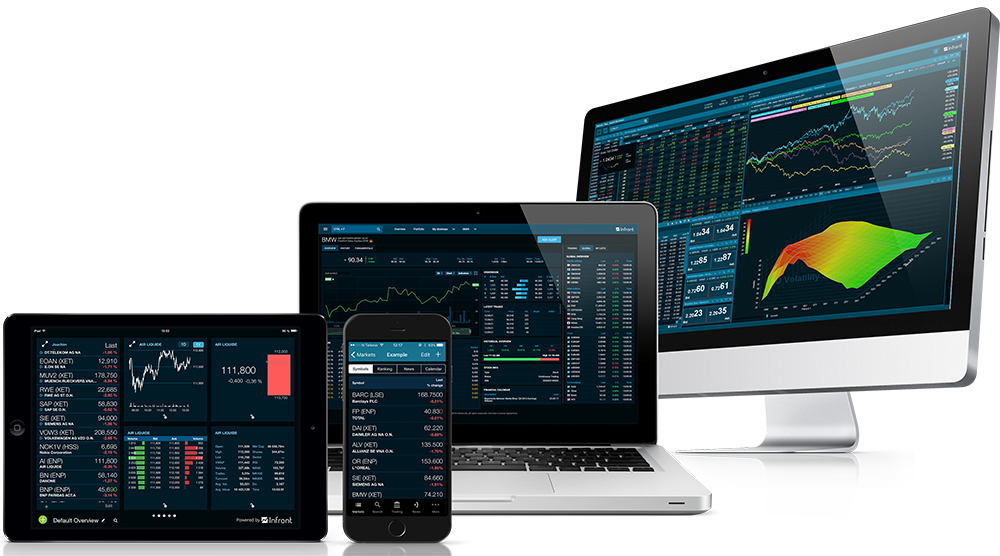 Infront Investment Manager 
Designed specially to support financial advisory workflow, Infront Investment Manager offers extensive market data coverage. Choose the data coverage you need for your investment process, with continuous updates so you always have the latest features and widgets available. 
Infront Data Manager
Do you need to fuel your internal systems with financial data? Get access to approximately 120 stock exchanges, 35 futures and commodities exchanges, 140 OTC contributors and more than 600 capital management and investment companies.