Infront Data Manager Compact
Financial market data: individual, targeted, compact
Do you need market and master data for selected securities? Get targeted data without complex software installation and maintenance effort.
Infront Data Manager Compact is the most efficient and individually configurable way to access market and master data based on your defined portfolio. With Data Manager Compact, we'll supply you with  market and master data in one compact file for quick implementation in just three steps.
Data Manager Compact is flexible and easy to use even as your needs vary over time: 
You can vary the combination of your selection of identifiers at any time without consultation.
The identifier requested will be automatically checked. If there are any erroneous inputs, an error report will be provided via the FTP server.
You'll get a mail as soon as the data is available for you to retrieve.
We archive all retrievals for 14 days as standard, guaranteeing the processes are audit-compliant.
Benefits at a glance
Benefits at a glance
Quick and flexible delivery of market and master data
No on-site installation necessary, can be used immediately
Free choice of the time of transmission
Highly reliable and reasonably priced supplement
14-day archiving (can be extended as an option)
Output formats .csv, .txt, .xml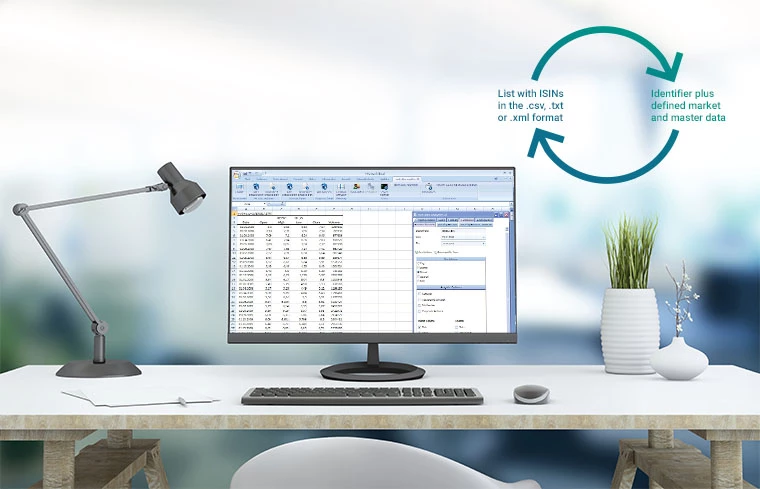 Quick implementation in 3 easy steps
Step 1
You decide which data fields and information you want to be shown and when the complete data should be provided. Then, we'll configure your unique individual profile for data retrieval in Data Manager Compact. You won't need to make any installations or have any technical know-how.
Step 2
You load a list with the instrument identifiers (ISIN, symbol, WKN) you need in the file formats .csv, .txt or .xml on our server.
Step 3
We'll complete the data fields defined in advance with the identifiers you have reported and will send the file back to you, so the complete data sets, e.g. in existing systems, can be imported or made available for separate compliance or risk controlling requirements.