Infront Trading Solutions
Trading solutions for every need
Whether you are sell-side or buy-side or an exchange, in need of a trading solution for your own internal workflow or a premium trading service to offer your clients or to broker members, Infront has flexible solutions to fit the needs of your business.
The flexibility and modularity of Infront Trading Solutions make it easy to set up execution solutions to fit the needs of buy-sides and sell-sides alike. Deliver streaming, multi-asset global market data, real-time market views and electronic trading services to both your internal users and external clients.
The solutions support multiple stages of the trading life cycle – from order idea initiation and electronic execution via single broker connections or multi-broker trading networks, through risk management and reception of confirmations drop-copied to a back-office system.
For your internal trading 
Set up your execution solutions just the way you want them, with powerful trading functionality at your fingertips. The Infront Professional Terminal for Trading is an independent electronic trading front-end with access to global counterparties and multi-asset class execution of both listed and OTC products. The platform includes fully integrated EMS and OMS functionality, FIX connectivity, and Care, DMA and Algo trading capabilities. You get the full real-time global market data, news, and analytics that are the signum of the Infront Professional Terminal. With fast and powerful search, analytics and alert tools, you can cut through the noise and gain unique market insight for better investment decisions.
For your private investor clients
Infront provides a complete online brokerage solution for brokers who want to offer electronic trading services to their active private investor clients.  Modern easy-to-deploy desktop, web and mobile apps, back-office integration, order validation and web-based user administration tools help brokers efficiently leverage their existing infrastructure for increased order flow.
You get a customer-driven solution integrated with existing order and portfolio management systems. The flexibility and modularity of the Infront Trading Solutions make it easy to create highly tailor-made execution solutions to fit the needs of individual brokers and end users. 
Flexible and cost efficient trading solutions
Flexible and cost efficient trading solutions
Infront Professional Terminal for Trading for the professional trader
Infront Active Trader for your most active private investor clients
Infront Web Trader for your active private investor clients
Infront Web Toolkit for trading functionality integrated on your own website
Infront Connect connecting buy-side, sell-side, trading venues, professionals & retail users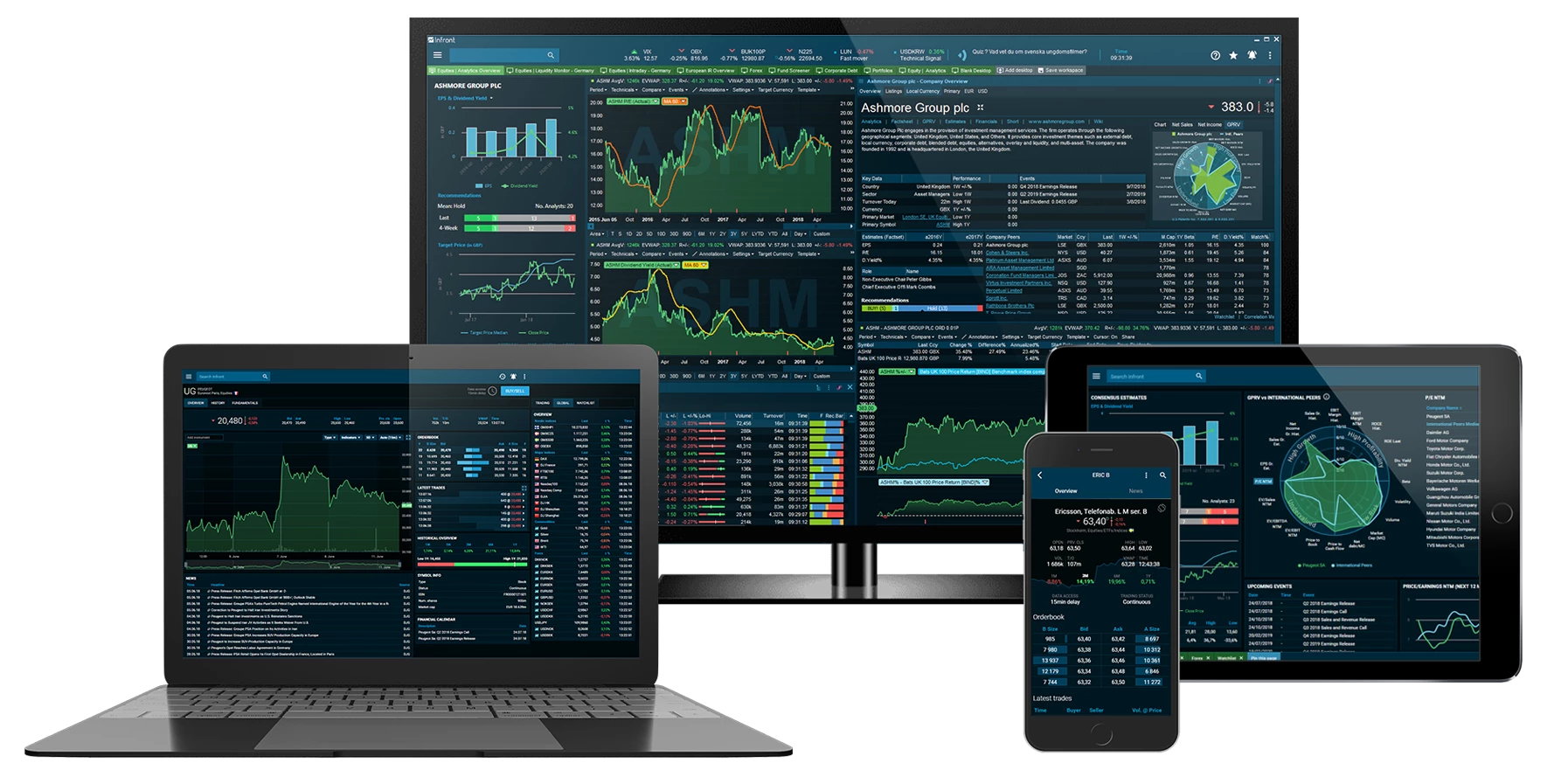 Infront Trading Solutions products