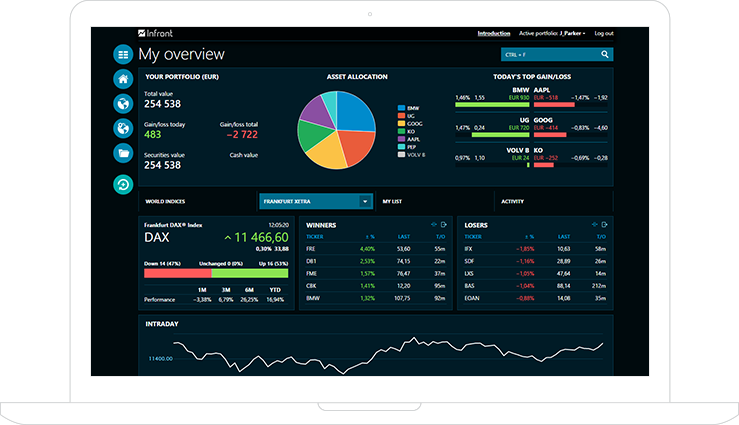 Infront Web is a new, browser-based market data and trading interface designed from the ground up to help more private investors experience the market. Not just surfing free finance sites and making a handful of trades per year, but actually immersing themselves in the real market and trading regularly.
Getting active with Infront Web
Here are five ways that brokers can help more of their clients move past the free sites and into trading regularly:
1. Make it easy for them
Most of your private investor clients are probably used to finding financial info on the web. Infront Web is an easy step up for them: It uses standard web technologies and runs in all popular browsers like Chrome, Safari, Firefox and Internet Explorer (and on all platforms, including Mac). Your clients can just log in and immediately enjoy a whole new level of involvement in the markets.
2. Give them access to more markets (in real-time)
Infront Web gives access to the complete set of global, multi-asset market data available from Infront. This means that your clients can broaden their horizons beyond their local exchange, and invest in companies that interest them – like Apple, Google, Tesla and more. As a broker, you can add or remove access to markets for your clients instantly with a web-based admin module, and can even allow them to subscribe to new markets with their credit card.
3. Let them control their experience
There's lots of free financial info available on the web, but those free sites don't let your clients combine and compare data, or to easily monitor their portfolios. With Infront Web, your clients get a better sense of control with integrated search, custom watchlists, charts, global and local overviews and the ability to drill down into instrument details with a click – all a part of their own, personal trader terminal. A whole new level of control vs. surfing free finance sites.
4. Help them discover new trading opportunities
Your private investor clients are probably focusing on equities, but if they're only looking at stock prices, they're missing opportunities. Infront Web gives your clients the big picture, with commodities, macro events, FX, news and other input to their investment strategy. Estimates, company fundamental data and even tips on investment ideas based on their portfolio are also available. As a broker, you can integrate your own research, blog posts or other content directly in the interface. And within Infront Web, placing an order is always just a click away, making it quick and easy for your clients to act on the information at hand.
5. Speak their language
With your private investor clients using Infront Web and your internal sales traders using the Infront terminal, you share a common "language" with your clients, making it easier for you to provide great client service. Having clients who work in a web-based terminal rather than on free sites across the web means that they see the same real-time data, charts and other content that your traders do – and you can provide them with advice that they can act on immediately.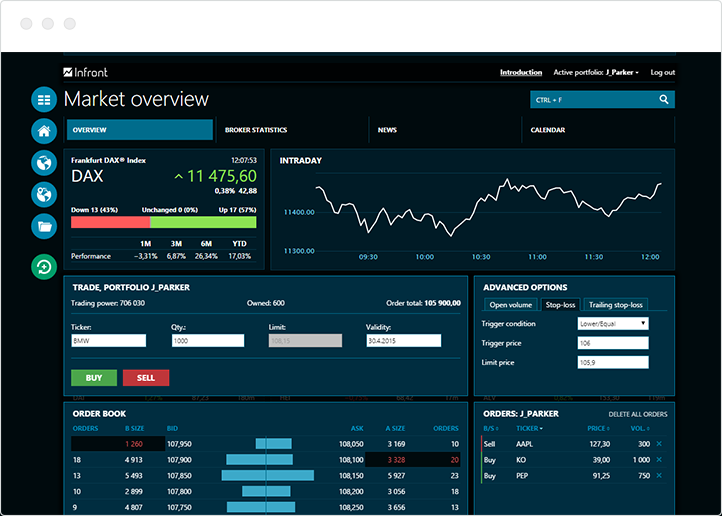 Are your clients really experiencing the market?
Find out how Infront Web can help you deliver the whole market to more of your private investor clients. Click here to contact us and arrange a demonstration.