/
News /
March 2021 Infront Newsletter
Newsletter
Monday Mar 1, 2021
March 2021 Infront Newsletter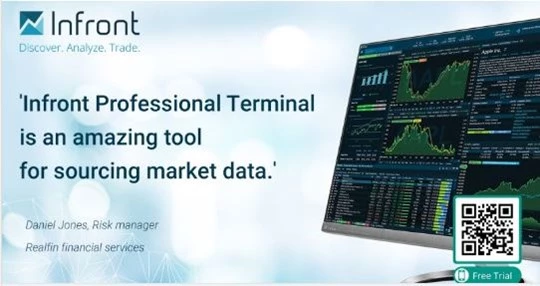 Dear Subscriber,
With this newsletter, we would like to inform you about news on our products, our company, current market developments, and the most important industry updates.

Contents of this issue:
Top Topic: ESG insights from Clarity AI across Infront products
Product news
Cooperations
Infront news
Webinars and events
ESG data from Clarity across Infront products
Infront entered a partnership with Clarity AI to better meet the increased demand for ESG insights by offering a comprehensive suite of ESG insight solutions for their customers. Read more >>
Find out more about sustainability in this expert interview on March 15 at 10:00 am.
Our colleagues in the studio department in the Stockholm office have launched a new live show called "Sustainability with Sasja". The first episode will air this Monday, March 15 at 10:00 a.m.
Sasja Beslik is a Swedish and international financial expert known for promoting financial sustainability across the world. In the upcoming interview, you will gain valuable insights into sustainable investing, learn about the latest developments in the market, and find out more about how you can "stay in the game" as an investor.
What's New in the Infront Professional Terminal?
The latest 8.6.400 release of the Infront Professional Terminal includes several improvements and fixes optimizing performance and workflow with an emphasis on some new features. Click here to know more or type "What's New" in the quick search tab of your Infront Professional Terminal.
Excel add-in new Feature with the Infront Professional Terminal
Our Excel Add-in is an advanced equity and sector analytics plug-in that allows you to create multiple company tables containing financial statements, estimates, multiples and ratios for all listed companies. We give you a brief overview of the new features. Read more >>
Infront Investment Manager – new features and improvements
With the new Infront Investment Manager release version 22.0.0 we have added some new features and have made improvements for you. To give you a brief insight, we have summarized the highlights. Read more >>
Gottex Brokers data now available in Infront terminal and feed products
Infront is constantly expanding its offering to meet the needs of its clients. The cooperation with Gottex Brokers S.A. allows Infront to give clients access to comprehensive and reliable data covering Interest Rate Derivatives, Fixed Income, FX and Money Markets, as well as Energy and Commodities. Read more >>
Introducing the Infront Treasury Solutions
How will you navigate the financial risks your company faces?
Infront Treasury Solutions include two main products for the treasury professional: Infront Professional Terminal for Treasury and Infront Data Manager Treasury, both of which can be used together or separately for a comprehensive, flexible, and easy-to-use solution for your treasury needs. Read more >>
JSE access data from Infront Professional Terminal
The Johannesburg Stock Exchange  (JSE), the largest stock exchange on the African content, has subscribed to the Infront Professional Terminal. Read more >>
NORD/LB goes live with Infront Professional Terminal
Infront announced that NORD/LB, one of Germany's leading commercial banks, has successfully supplemented its existing market data system with the Infront Professional Terminal in various areas of its business and plans to equip other areas with it as well. Read more >>
James Sharp goes live with Infront market data terminal and RSP Service
James Sharp & Co, an independent stockbroking firm and a member of the London Stock Exchange, has successfully replaced the existing market data system with the Infront Professional Terminal and RSP Service. Read more >>
Infront Q4 Report
Infront ASA (INFRNT) announced its interim results for Q4 2020. Operating revenue was EUR 29.7 million (EUR 28.5 million), an increase of 4% from the same quarter last year. Read more >>
Upcoming Webinars in spring 
Our client service team organizes 30-minute sessions where you can gain in-depth knowledge about the Infront Professional Terminal and other products on Tuesdays at 14.00 (GMT+1). To register, please find an updated schedule for the upcoming webinars and sign up or contact our client service team.
Upcoming Events
DKF 2021 - 10th D-A-CH Congress for Financial Information, 04/05/2021, Munich
19th COPS Usertreff, 24/06/2021, Rust
DEBS 2021 – Online event 14th ACM International conference on distributed and event-based systems 28th June – 2nd July 2021, Milano