/
News /
Infront appoints new members to management team
Press release
Monday Apr 4, 2022
Infront appoints new members to management team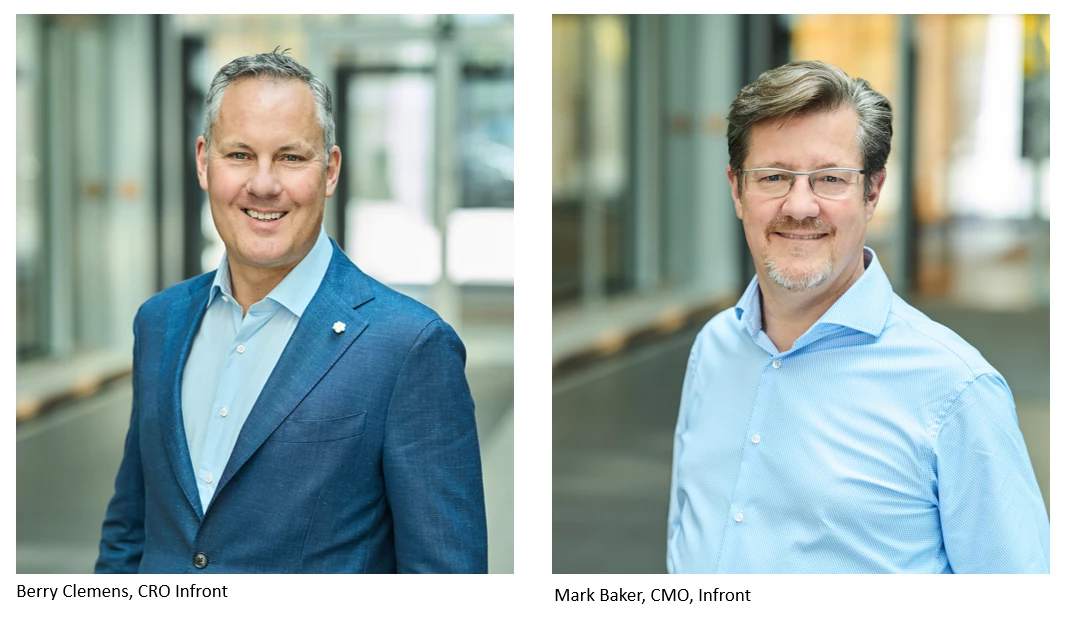 Infront announced today that Berry Clemens has been appointed to the position of Chief Revenue Officer (CRO) and Mark Baker to the position of Chief Marketing Officer (CMO) at Infront effective immediately. Berry Clemens has valuable experience in building strong, customer-focused sales organizations in international B2B software companies, while Mark Baker brings a wealth of experience in delivering growth through brand building, targeted audience engagement, customer-centric communications and a data-driven approach. Both will play strategic roles in Infront's ambitious growth plans.
Berry Clemens has held various positions in sales management, most recently as Vice President of International Sales for Talentsoft and before that as Sales Leader for Northern Europe at Oracle. Berry Clemens earned his Bachelor of Science at The Hague University of Applied Sciences.
Mark Baker has spent his entire career in B2B software, most recently as Vice President of Marketing Transformation at Infor. Prior to that, he was Chief of Staff to the CMO for EMEA & APAC at Oracle, driving the transformation of marketing teams, processes and metrics across those regions. Mark Baker earned his degree in Applied Mathematics and Computer Science at the University of Waterloo, Canada.
"We are pleased to welcome Berry and Mark to the management team at Infront. Their combined know-how and experience in building customer-centric organizations to accelerate company growth will be important success factors for Infront as we continue to expand our footprint throughout European financial markets," commented Zlatko Vucetic, CEO of Infront.
Berry Clemens commented, "I am excited to join Infront in this expansive phase. I look forward to working with the sales teams across Europe to get closer to the markets, understand the changing needs of our customers and expand the customer base."
Mark Baker commented, "I am thrilled to be part of Infront's journey towards a very bright future. Together with Infront's experienced marketing, sales, product and customer service teams, we will work to inject clarity and energy across the customer journey to the benefit of our customers."