/
News /
Infront ernennt neue Mitglieder des Management-Teams
Press release
Montag Apr 4, 2022
Infront ernennt neue Mitglieder des Management-Teams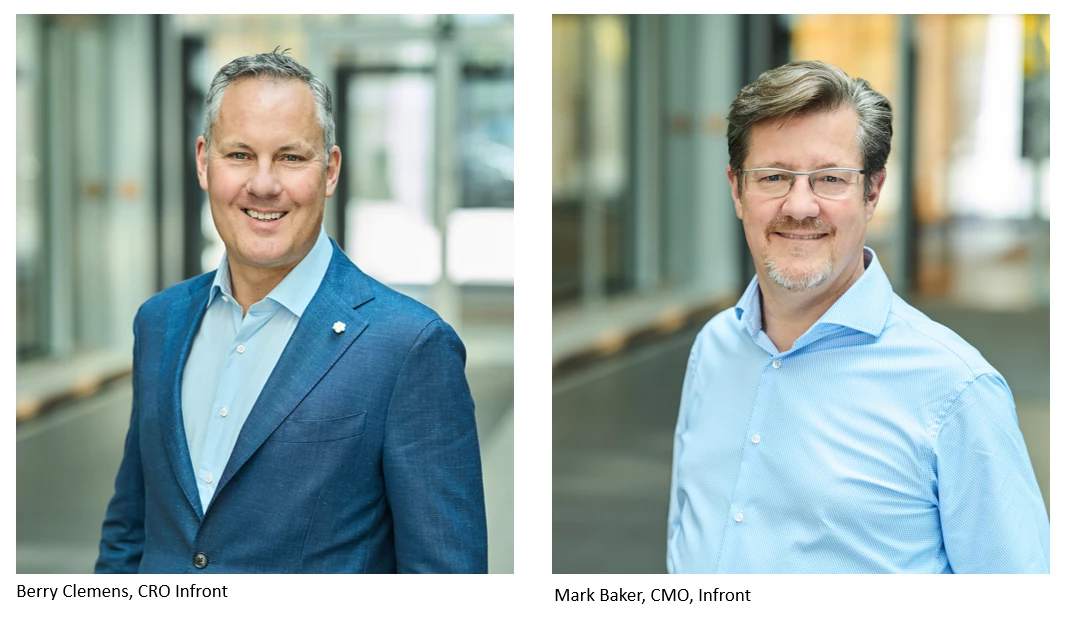 Infront gab heute bekannt, dass Berry Clemens mit sofortiger Wirkung zum Chief Revenue Officer (CRO) und Mark Baker zum Chief Marketing Officer (CMO) bei Infront ernannt wurden.
Berry Clemens verfügt über wertvolle Erfahrungen im Aufbau starker, kundenorientierter Vertriebsorganisationen in internationalen B2B-Softwareunternehmen. Mark Baker besitzt einen reichen Erfahrungsschatz, um Wachstum durch einen gezielten Markenaufbau, gezielte Kundenansprache sowie eine kundenzentrierte Kommunikation und einen datengetriebenen Ansatz zu erzielen. Beide werden bei den ehrgeizigen Wachstumsplänen von Infront eine strategische Rolle spielen.
Berry Clemens war in verschiedenen Positionen im Vertriebsmanagement tätig, zuletzt als Vice President of International Sales bei Talentsoft und davor als Sales Leader für Nordeuropa bei Oracle. Berry Clemens erwarb seinen Bachelor of Science an der Fachhochschule in Den Haag.
Mark Baker hat seine gesamte Karriere im Umfeld von B2B-Software verbracht, zuletzt als Vice President of Marketing Transformation bei Infor. Davor war er Chief of Staff des CMO für EMEA & APAC bei Oracle, wo er unter anderem die Transformation der Marketing-Teams, -Prozesse und -Metriken in diesen Regionen vorantrieb. Mark Baker erwarb seinen Abschluss in Angewandter Mathematik und Informatik an der University of Waterloo, Kanada.
"Wir freuen uns, Berry und Mark im Management-Team von Infront begrüßen zu dürfen. Ihr kombiniertes Know-how und ihre Erfahrung beim Aufbau kundenorientierter Organisationen, die das Unternehmenswachstums beschleunigen sollen, werden wichtige Erfolgsfaktoren für Infront sein, während wir unsere Präsenz auf den europäischen Finanzmärkten weiter ausbauen", kommentierte Zlatko Vucetic, CEO von Infront.
Berry Clemens kommentierte: "Ich bin begeistert, Infront in dieser expansiven Phase zu begleiten. Ich freue mich darauf, mit den Vertriebsteams in ganz Europa zusammenzuarbeiten, um Märkte besser kennenzulernen, die sich ändernden Bedürfnisse unserer Kunden zu verstehen und unsere Kundenbasis zu erweitern."
Mark Baker kommentierte: "Ich freue mich sehr, Teil der Reise von Infront in eine vielversprechende Zukunft zu sein. Gemeinsam mit den erfahrenen Marketing-, Vertriebs-, Produkt- und Kundenservice-Teams von Infront werden wir daran arbeiten, dass die gesamte Customer Journey klarer und agiler wird, zum Nutzen unserer Kunden."