/
News /
The 'Build or Buy' Question - What about Subscribe?
News article
Monday Sep 26, 2022
The 'Build or Buy' Question - What about Subscribe?
More and more financial firms on both the buy and sell side see the benefits of subscribing to Software-as-a-Service (SaaS) solutions.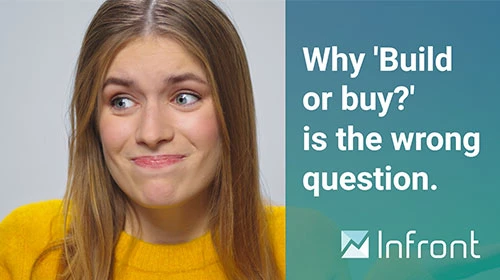 There has long been a debate in the financial markets industry about the pros and cons of building in-house software solutions versus buying off the shelf from software vendors, and the debate will no doubt continue long into the future.
But it is a false dichotomy. There is another option, the 'as-a-Service' model, which is growing in popularity not just within the financial markets sector, but across all industries. Within finance, more and more firms, on both the buy and sell side, now see the benefits of subscribing to Software-as-a-Service (SaaS) solutions rather than going through the long, drawn-out process of building their own systems, not to mention continuous development and maintenance.
Financial institutions today face increasing cost pressures and are therefore keen to find ways to better manage the costs not just of their software estates, but also of the extensive data sets they need in order to support their investment and trading activities.
Building and maintaining an in-house solution is an expensive and resource-intensive proposition, and generally only makes sense for the largest of firms, who can employ teams of skilled developers. For the majority unable to command such resources, buying an off-the-shelf solution has traditionally been considered a better option. But buying trading software can come with its own set of headaches, such as high up-front costs - particularly if dedicated hardware is required to run that software – and vendor lock-in, often for extended periods. Both approaches can therefore incur significant capital expenditure. They can also result in localised solutions with single points of failure, which don't always scale well.
All of this helps to explain why the third option - the SaaS model - is becoming increasingly popular among forward-looking financial institutions, particularly those with a clearly defined strategy around digitisation and the cloud. 
In many industries, the subscription model has now become mainstream, and the capital markets industry is now following a similar path. For trading and investment firms, there are many advantages to deploying SaaS-based solutions. Eliminating CapEx to minimise upfront costs - and enjoying a predictable OpEx pricing model - is just the start. Another advantage is the ease and speed of deployment that SaaS offers. For startup firms, or those looking to expand into new markets, it is highly attractive to be able to rapidly deploy trading software and to source the necessary data from day one, without having to make a large upfront investment. This fast speed to market can give firms a strong competitive edge.
Also, having a solution delivered via the cloud instead of on premise, with accessibility from anywhere in the world, is also increasingly becoming a necessity for firms, especially in the post-COVID world.
At Infront, we recognise that customers' needs are changing around how they deploy trading software, which is why we offer our solutions as-a-Service, with subscription-based pricing, thus enabling our customers to optimise their IT spend and reduce cost pressures. Infront customers also benefit from the performance and stability we offer, both through our terminal software and our web-based front end, which can itself be white-labelled and offered out to firms' own end-clients via the cloud.
A growing number of firms are now realising the benefits of outsourcing their tech stack through SaaS offerings such as those delivered by Infront, because they allow for increased investments in their core business and more time spent on customer relationships. The combination of state-of-the-art web technology, high-end risk & performance calculations, comprehensive data solutions and modular, scalable and fit-for-purpose order routing and handling solutions, all delivered via a SaaS model, is proving to be the most cost-efficient and future-proof option for institutions looking to grow their core business.