/
News /
Infront wins award for Best Market Data Service
News article
Thursday Sep 10, 2020
Infront wins award for Best Market Data Service
Leading service and system suppliers were announced at the Systems in the City Fintech Awards during an online ceremony hosted on 10th September 2020 by Sky Sports News Presenter Hayley McQueen. Nominated by a UK customer, Infront was chosen to receive the award for the Best Market Data System by an independent jury.
In addition, Ricky Strachan, Sales Manager at Infront in the UK, received an award for Sales Manager of the Year with the motivation "Ricky provides excellent service and has exceptional technical knowledge. He is extremely trustworthy and honest and puts customers first."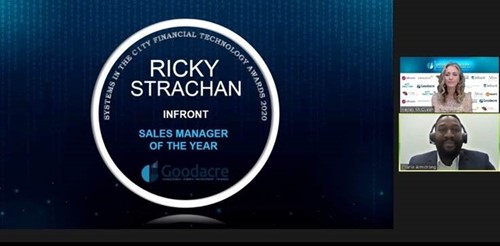 Stephen Pinner, Managing Director at Goodacre UK the company responsible for organising these annual awards said , "Individuals and companies working in the FinTech sector have provided exceptional support during the past 12 months during the most challenging circumstances for the financial services sector. For the majority of companies' business has not been interrupted thanks to the efforts of the teams behind the scenes. More than ever, it is highly appropriate to reward all nominees and winners for their efforts."
The Systems in the City Financial Technology Awards take place annually and reward the leading service and system suppliers to the regulated financial community.