/
News /
Infront launches new website showcasing modular solutions for the entire financial workflow
Press release
Wednesday Apr 21, 2021
Infront launches new website showcasing modular solutions for the entire financial workflow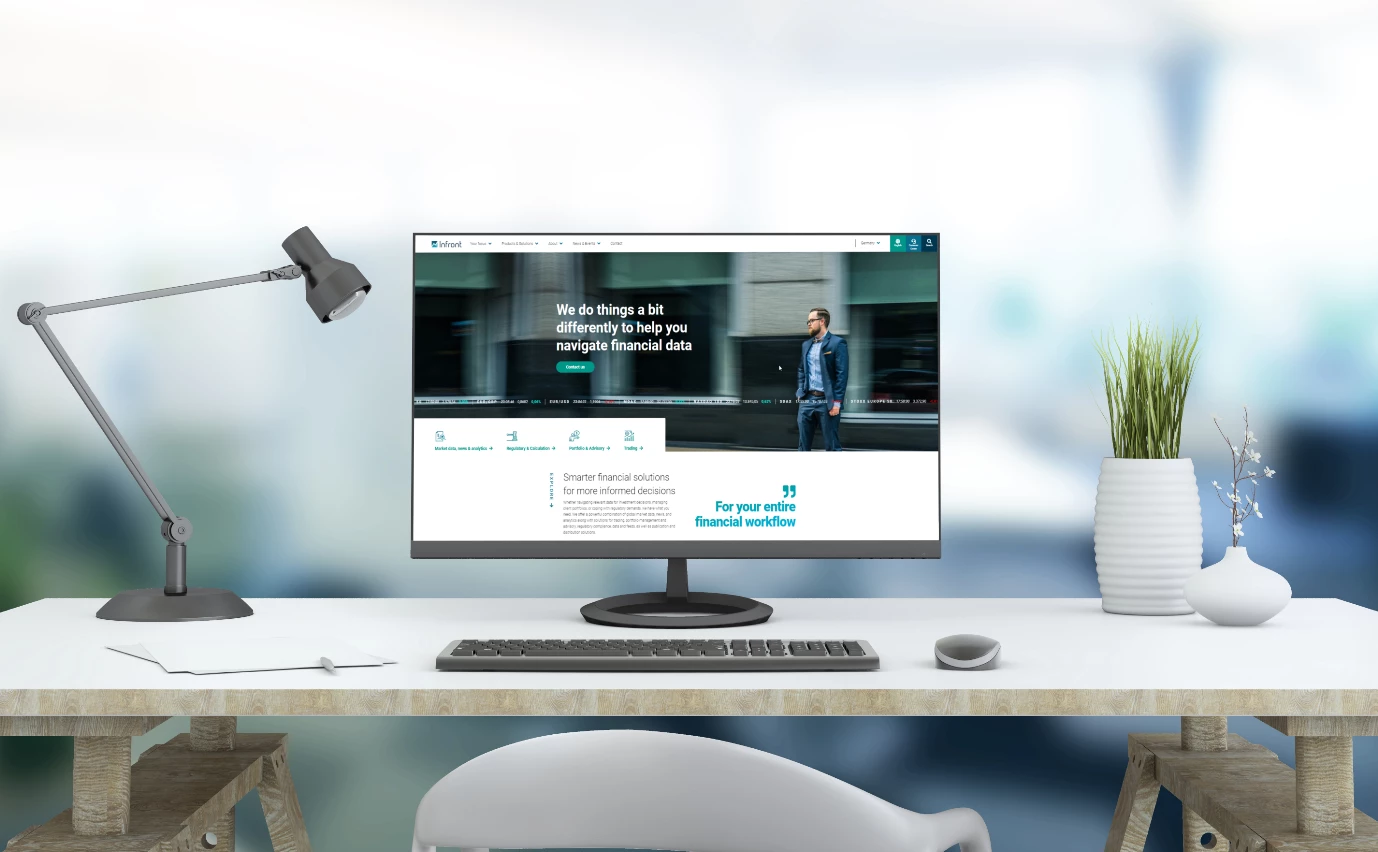 Oslo, 21 April 2021: Infront, the European market leader in flexible financial market data solutions, announced today the launch of their new website. The new site clearly confirms the integration of Infront and its acquired subsidiaries into one united company with a complete platform of modular solutions.
The website shows the full breadth of the products and solutions offered by Infront, with a structure that makes it easy for customers and new visitors alike to find the products that are relevant to their business, from real-time market data, news and analytics display, trading solutions, portfolio management, digital advisory and web solutions, to risk, compliance and valuation solutions.
The website provides many opportunities to learn more about Infront's products as well as helpful hints. There are videos that give a quick view of a product and others to help users get started. Example desktops to download and FAQs are also available. Visitors can easily sign up for free trials or request a quote throughout the website, and keep up to date on our latest webinars, events and company announcements in the news and events section.
Customers can find user information including log-ins, technical details, product documentation and more in the website's Customer Center, which will be continuously updated with relevant changes. Infront's continued commitment to the DACH region is confirmed by the German version of the site.
"Our new website symbolizes the united Infront and our work to pioneer flexible and scalable solutions and integrate them onto one single platform of services. We aim to keep it simple for our customers and approach things differently. Easy access to what the customer really needs, finding the data faster to make smarter decisions has always been our driving force. The new website design reflects this approach and highlights our value proposition to our customers to provide transparent solutions on a unified platform, combining global coverage with strong local market expertise. We hope customers and other visitors will find it informative and helpful," commented Kristian Nesbak, CEO and co-founder of Infront.