/
News /
Infront and Infront Direkt News Agency celebrate 50 years combined
News article
Tuesday Feb 5, 2019
Infront and Infront Direkt News Agency celebrate 50 years combined
Spirits ran high as 100 of Infront's and Infront Direkt's Nordic customers and employees gathered to celebrate a combined 50 years of successful business and the two companies' brand new joint office in Stockholm.
The evening kicked off with an interesting and entertaining discussion between our special guest Rolf Andersson, founder of Pantor and general fintech expert, and Infront's chief innovation officer and co-founder Morten Lindeman. With personal anecdotes and industry experience, they gave an informal view of the fintech industry, past and future. You can listen to their discussion here.
With continued discussions, sushi galore, and drinks mixed by the evening's bartender, everyone seemed to enjoy themselves. "This was an opportunity for us to say thank you to our customers for supporting us through the years," said Lars Östlund, CEO and Editor in Chief of Infront Direkt together with Kristian Nesbak, CEO and co-founder of Infront. "We're delighted so many people joined us."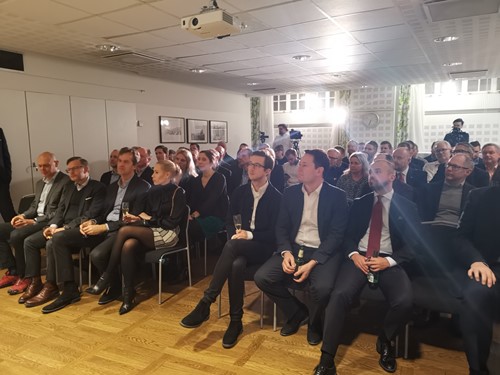 Infront Direkt, better known as Nyhetsbyrån Direkt in Sweden, has earned acclaim in its 30 years of providing coverage on what is happening on the world's financial markets from a Swedish/Nordic perspective, giving customers the best starting point for successful investments.
Infront has grown from a Norwegian startup 20 years ago to an acclaimed market data and trading solution with a solid European footprint. In addition to Infront Direkt, the Infront Group also includes Infront Analytics, Infront Data, Infront TDN Direkt and its latest acquisition in Italy, Infront Market Connect.