/
News /
ESG module now available in Infront's market data and analytics display solutions, portfolio management and advisory products
Press release
Tuesday Sep 21, 2021
ESG module now available in Infront's market data and analytics display solutions, portfolio management and advisory products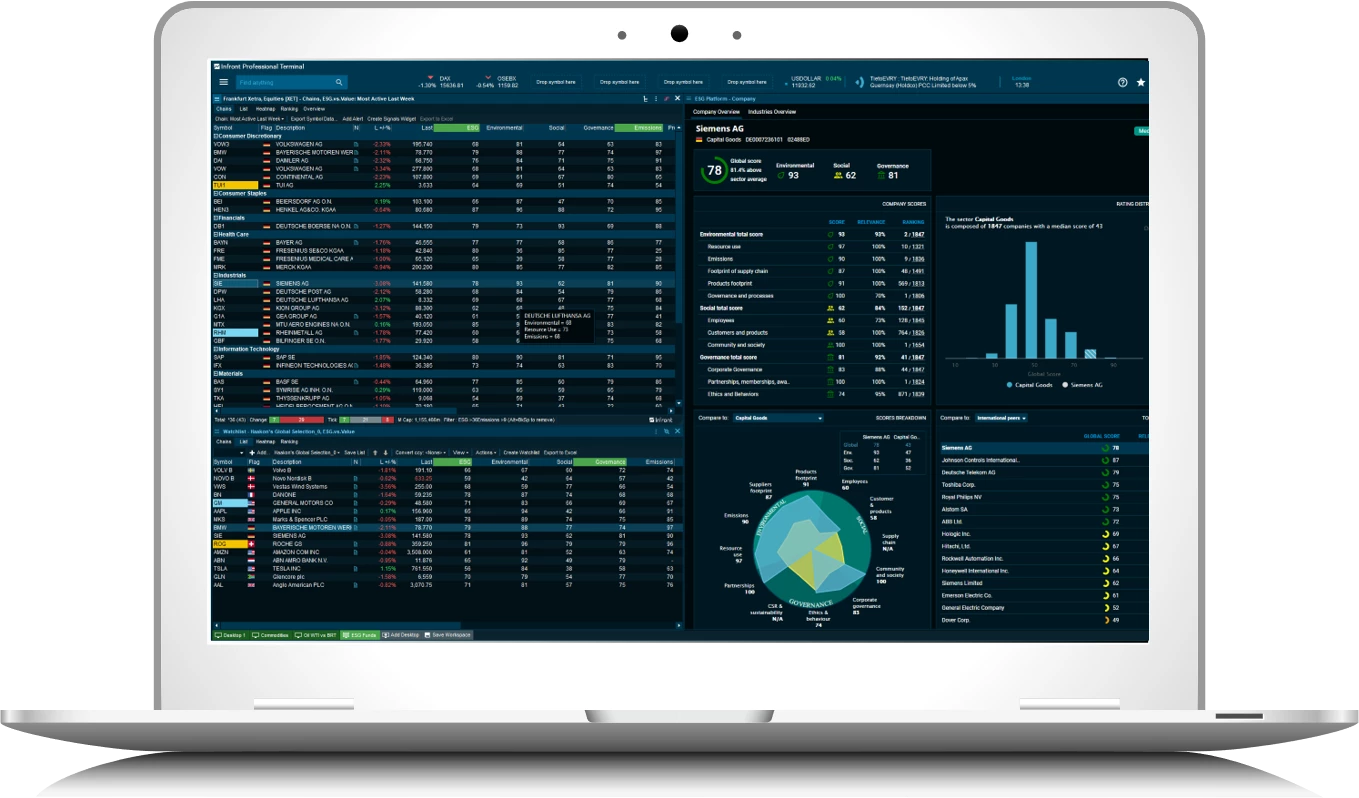 Best coverage industry-wide, supported by Clarity AI
Same methodology across all asset classes
Unique ESG industry aggregates for top-down analysis
Innovative widgets and comparisons to quickly get hold of the data and take action
Infront, the European leader in financial market data solutions, announced that the ESG module is now available in all of Infront's flagship products including Portfolio Manager, Professional Terminal and Investment Manager. Users of Infront products will have access to the industry's largest ESG database with coverage of 30,000 companies, 200,000 funds, 400 countries and governments. Infront provides a consistent methodology for measuring ESG, making it easier to compare investments and portfolios.
The new module with the ESG risk scores provided by Clarity AI is relevant to Infront's clients in wealth management, private banking, family offices, advisors and all consumers of ESG data who want ready-to-use solutions and risk scores. It allows investors to evaluate just how well companies and countries in their portfolio are managing their environmental, social and governance-related risks and opportunities.
Infront additionally calculates ESG aggregates based on industries, so analyses and comparisons can be made at industry level as well. The focus of the ESG module is on visualization to help users put the ESG data into context and easily compare it to that of other companies to help their clients make better decisions.
"Our strategy in making Clarity's ESG risk scores available to our clients is to make it easier for them to work with ESG in their business and to fulfil the ESG requirements. ESG risk scores are easy to implement and can be used instantly, for example, while in conversation with clients. Also unique in our products is the ability to link the company score to bonds", says Harvey Vo, Product Manager Content Proposition, Infront.
"We are happy to offer our innovative ESG module in all of Infront's core products, leveraging on our recognized expertise in third-party data harmonization and comparative analytics tools. Users of our core products will be able to easily integrate key sustainability metrics into their workflows. We will continue to expand our ESG offering based on the valuable feedback we receive from our customers", says Florent Grauer, Chief Product Officer, Infront.