/
News /
2020 April Infront Newsletter for Nordics
Newsletter
Wednesday Apr 1, 2020
2020 April Infront Newsletter for Nordics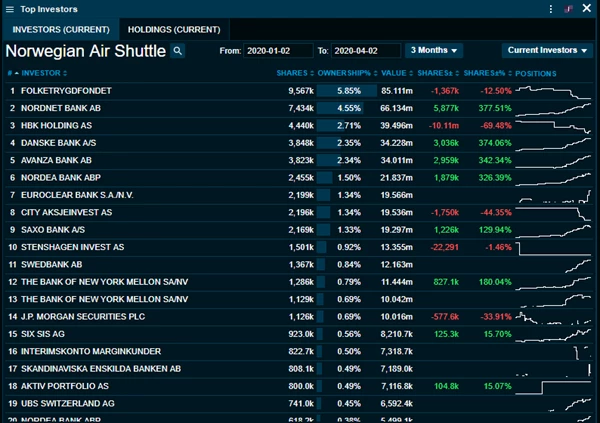 Dear Customer
In these COVID 19 times markets are very volatile and at the moment we do not know the outcome of it. At Infront we continue to work hard to improve our services even in these tough times by adding more content and services in order for you to access more from one provider.  Below is a short summary of the latest updates from Infront. 
Infront Business Continuity Plan
Infront aims to provide the best possible service to our customers as always. Infront business operations are running as usual across the organization and across all Infront Group offices internationally. Read more
Q4 Report: Good progress on vwd integration with strong revenue and user growth
Infront ASA (INFRNT) announced on 28th February 2020 its interim results for Q4 2019. Q4 2019 operating revenue was EUR 28.5 million (EUR 7.3 million), an increase of 289% from the same quarter last year, driven mainly by the inclusion of vwd Group, full effect of Infront Italia and stable development across the group. Read more
Infront Professional Terminal is hub in Lannebo's automated funds workflow
Lannebo is automating its workflow from market data, news and analytics to order and portfolio management through to real-time risk and compliance, using the Infront Professional Terminal to bring the entire process together. Read more
Infront Market Data updates
---
Enhanced Top Investors content for Norwegian Equities
Infront has signed an agreement with Euronext VPS in Norway in order to distribute premium shareholder content to customers using the Infront Professional Terminal. The enhanced solution includes daily updates with up to 5 years of historical data enabling our customers to stay on top of what investors are doing in the market.  A challenge in following top investors has been the tendency of investors to buy or sell just below market thresholds so that they do not show up in the exchange notifications. With the new Top Investors functionality, which will be released in April, you can now capture these effects. See example desktop
Important changes to Exchange fees from Oslo Børs from July
Euronext, the leading pan-European Exchange acquired Oslo Børs in July 2019. After this acquisition, there may be some changes in the end-user fee which we shall communicate to our users in due course of time. We are still waiting for the final confirmation regarding the exchange fees from Euronext. Infront Service Changes
Equiduct and Infront partner to distribute market data
Equiduct, the pan-European trading venue, and Infront, the pan-European financial solution provider today announced that they have entered an agreement to distribute Equiduct's Apex market data. Read more
If you would like access go to My Profile in your Infront Professional Terminal and select New Services | MTF
Changes to STIBOR Fixings from 20th of April
STIBOR (Stockholm Interbank Offered Rate) fixings will be decommissioned by NASDAQ in April. In order to continue access, you need to order the service separately. More details to be provided on Infront Service Changes
Access our premium news for free during April
If you do not have access to our news services, you can easily add a trial from My Profile in your Infront Professional Terminal for 1 month on the following services during April:
TDN Direkt (Norwegian)
Direkt (Swedish)
Startel News (Finnish)
Ritzau Finans  (Danish)
Dow Jones Equity Trader (English)
Infront Professional Terminal - User Tips
---
The Infront Professional Terminal comes packed with global market data, news, Excel capabilities, analytics and trading services, so you can cut through the noise to get unique and precise market insight. And since it's available in the cloud, you can access it in minutes from wherever you are. 
How to maintain access from home
When life's unexpected turns leave you working from home, Infront makes things a little easier. With a subscription, you can use Infront from home on a laptop, mobile or tablet. Be up-and-running in 2 minutes. Read more 
How to access data about Corona / COVID-19 virus
Infront delivers macroeconomic data and times series including data on Corona numbers. Type in "Macroeconomic Indicators" in the search bar. When the market is opened, search for the category "Health".  You can also click on the images below to access the data. 
How to access IBOR Fixings
Interbank Lending Rate (IBOR) fixings can be accessed in the Infront Professional Terminal by:
Type IBOR in  Search menu in the Infront Professional Terminal, then type command <name> and you can select either Global IBOR Fixings or Nordic IBOR Fixings
How to select news sources and use news filtering
Infront delivers real-time professional news from several leading news sources including Direkt, TDN Direkt, Dow Jones, Alliance News and others. If you would like to filter the news this can be easily done and its possible to create serveral news filters that you can switch between. To open a news window click the 'News' button in the main menu or type "News" in search. This will give you a list of available news sources, simply tick the ones you want and they will open in a mixed news window.
Sign up for our weekly webinars 
Our client service team organizes 30 minutes sessions to gain in-depth knowledge about the Infront Professional Terminal on a weekly basis every Tuesday at 14.00 (GMT+2). To register, please find an updated schedule for the upcoming webinars here or contact our client service team