/
News /
Infront gewinnt Auszeichnung für den besten Marktdatenservice
News article
Donnerstag Sep 10, 2020
Infront gewinnt Auszeichnung für den besten Marktdatenservice
Wir sind stolz und freuen uns, die Auszeichnung für den besten Marktdatenservice bei den Systems in the City Fintech Awards während einer Online-Zeremonie am 10. September 2020 erhalten zu haben. Darüber hinaus erhielt Ricky Strachan, Sales Manager bei Infront in Großbritannien, eine Auszeichnung als Sales Manager des Jahres.
Die Auszeichnung von Ricky zum Sales Manager des Jahres wurde wie folgt begründet: "Ricky bietet exzellenten Service und verfügt über außergewöhnliche technische Kenntnisse. Er ist äußerst vertrauenswürdig und ehrlich und stellt die Kunden an erste Stelle".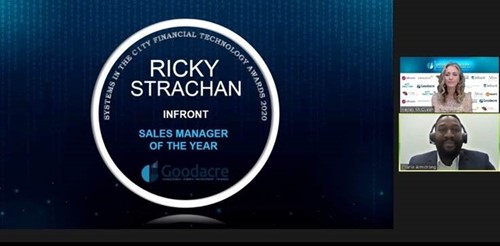 Stephen Pinner, Managing Director bei Goodacre UK, dem Unternehmen, das für die Organisation dieser jährlichen Auszeichnungen verantwortlich ist, sagte: "Einzelpersonen und Unternehmen, die im FinTech-Sektor tätig sind, haben in den vergangenen 12 Monaten unter den schwierigsten Bedingungen für den Finanzdienstleistungssektor außergewöhnliche Leistungen erbracht. Dank der Bemühungen der Teams hinter den Kulissen wurde die Geschäftstätigkeit der meisten Unternehmen nicht beeinträchtigt. Mehr denn je ist es höchst angebracht, alle Nominierten und Gewinner für ihre Bemühungen zu belohnen".
Die Systems in the City Financial Technology Awards finden jährlich statt und zeichnen die führenden Dienstleistungs- und Systemlieferanten der regulierten Finanzwelt aus.