/
News /
Update: LIBOR Umstellung 2021- Referenzzins abgelaufen
News article
Dienstag Dez 28, 2021
Update: LIBOR Umstellung 2021- Referenzzins abgelaufen
Die "London Interbank Offered Rate" oder auch bekannt als "Londoner Interbanken-Angebotszins"; mit Abkürzung Libor wird ersetzt. LIBOR-Referenzzinssätze in Schweizer Franken, Britischem Pfund, Japanischem Yen und US-Dollar werden ab Ende 2021 ersetzt. Der LIBOR ist eine auf den Finanzmärkten verwendete Zins-Benchmark. Zahlreiche Finanzinstrumente sind betroffen.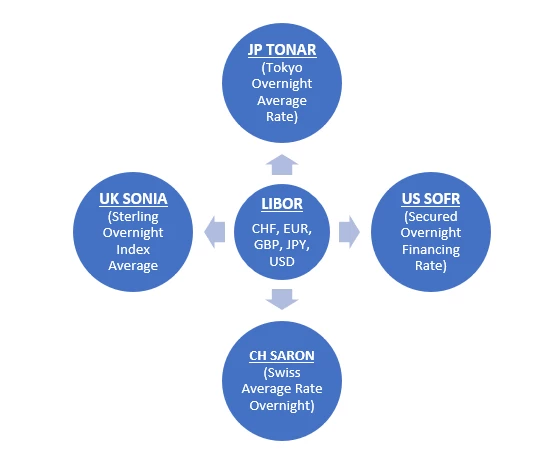 Schätzungen zu Folge betragen die Finanzierungstransaktionen von globalen Banken etwa $500 Millionen US-Dollar pro Tag. Dies scheint gering im Vergleich zu den $200 Billionen US-Dollar an Finanzkontrakten, die sich auf den USD LIBOR als Referenzzinssatz beziehen. Typische Finanzkontrakte bzw. -Produkte sind beispielsweise Derivate, Anleihen, Kredite, Verbriefungen und Einlagen. 
Die tägliche Feststellung des LIBOR-Satzes durch die Panel-Banken erfolgte auf Basis von Quotes. Die Belastbarkeit dieser Panel-Bank Quotierungen stellt eher eine Schätzung eines Experten bzw. Geldmarkthändlers der Panelbank dar und beruht nicht auf einem tatsächlichen Handelsgeschäft.
Wer ist an der Umstellung beteiligt?
Jeweils nationale Finanz-Gremien erarbeiten unter Mitwirkung der Zentralbank neue Konzepte.
Um beispielsweise die Belastbarkeit der US-Dollar Referenzzinssätze zu erhöhen arbeitet in den USA der private Banken-Sektor mit der Zentralbank bei der Umstellung des LIBORs auf den SOFR (Secured Overnight Financing Rate) zusammen.
Dies sind das Alternative Reference Rates Committee (ARRC), eine Gruppe von privaten Marktteilnehmern, die vom Federal Reserve Board und der New York Fed einberufen wurde.
In Großbritannien arbeitet die Bankindustrie in der "Working Group on Sterling Risk-Free Reference Rates" am Übergang von LIBOR zu SONIA (Sterling Overnight Index Average) in den Sterling-Märkten. Die "Bank of England" und die "Financial Conduct Authority (FCA)" nehmen als ex-officio Mitglieder teil und unterstützen die Gruppe administrativ.
Welche Auswirkungen sind zu erwarten?
Das erwartete Ende von LIBOR Quotierungen in 2021 für diverse Laufzeiten führt u.U. zu einem:
Änderungsbedarf für kritische Benchmarks,
Möglichem Bedarf für Fallback-Projektionen für Referenzsätze mit Aufzinsung Aufschlägen,
LIBOR-Fixings für Futures und Optionen werden zur Umstellung möglicherweise Verwerfungen in den Spreads der Kontrakte aufweisen und
Historisches Back-Testing mit Referenzzinssatzwechsel ist aufwendiger.
Die Quelle für das Fixing liegt zukünftig meist bei der nationalen Zentralbank.
Zeithorizont
"Die ICE Benchmark Administration (IBA), die den LIBOR und dessen Einhaltung überwacht, führt eine Marktkonsultation zum Wegfall der 1-Wochen- und 2-Monats-Laufzeiten für den US-Dollar-LIBOR per Ende 2021 und die weiter verbreiteten US-Dollar-LIBOR-Benchmarks per Ende Juni 2023 durch. Derweil wurden von der "ECB Working Group on Euro risk-free Rates" zwei Konsultationen eingeleitet, in denen Stakeholder aufgefordert wurden, Stellung zu Ausfalllösungen für den EURIBOR bzw. zu möglichen Auslösern zu nehmen."
Ein Beispiel zur Preisstellung aus dem Dollarraum
Der designierte USD-Libor Nachfolger SOFR wird von der New York Fed in Zusammenarbeit mit dem Office of Financial Research erstellt. Die New York Fed veröffentlicht den SOFR jeden Werktag um ca. 8:00 Uhr Eastern Time.
Der SOFR ist ein wesentlich belastbarerer Zinssatz als der LIBOR, da er durch die Art seiner Erstellung und die Tiefe und Liquidität der ihm zugrundeliegenden Märkte bestimmt wird. Als gesicherter Tagesgeldsatz spiegelt der SOFR besser die Art und Weise wider, wie sich Finanzinstitute heute finanzieren.
Außerdem stellen wir Ihnen über die Infront Lösungen den jeweiligen Ersatz für die bisherigen Libor Rates wie folgt zur Verfügung:
Bisherige Libor Rates für folgende Währungen

Ersatz

Laufzeit

Beispiel O/N

Symbol

Libor CHF           

SARON (Swiss average rates overnight) 

ON bis 1 Jahr; Länger via Gottex Brokers

SAR® ON   SARON.CH

Libor USD          

SOFR (Secured overnight finance rate) von der Federal Reserve Bank

ON bis 1 Jahr        

Secured ON Financing Rate SOFR.FED

Libor GBP      

SONIA (Sterling overnight Interbank average Lending rates) der Bank of England

ON, dann ab 1. Jahr    

Daily SONIA Lending Rate SONIAGBP.SONIA

Libor JPY            

TONAR (Tokyo overnight average rate) der Bank of Japan

Laufzeit ON bis 1 Jahr

TONAR Final TONAR_FIN.NBJP.FIX

Libor EUR

(€STR Durchschnittssätze) der EZB

 

ON (bis 1 Jahr)

ESTR

ESTR.EZB
Neben den risikofreien O/N-Sätzen aus offiziellen Quellen finden in den meisten Währungen Entwicklungen statt, um zukunftsweisende Terminkurse einzuführen. Einmal empfohlene Terminkurse "Term Rates" bieten einen Fahrplan für die nächsten Schritte zur Definition von Referenzkursen. In Yen, GBP und USD sind bereits Börsen oder Aggregatoren damit beauftragt, Terminkurse anzubieten und zu veröffentlichen. Diese bieten Zinssätze für Laufzeiten zwischen 1 Monat und 12 Monaten an.
In der Eurozone wurde mit der Euribor-Reform die bestehende Benchmark unter Verwendung einer hybriden Berechnungsmethode so umgestaltet, dass sie besser mit der aktuellen Benchmark-Verordnung übereinstimmt. Gegenwärtig scheint nicht genügend Liquidität vorhanden zu sein, um einen zukunftsgerichteten Terminzinssatz für €STR festzulegen.
Die SIX als Administrator des SARON in CHF scheint nicht zu planen, einen zukunftsgerichteten Terminkurs für SARON einzuführen.
Die folgende Tabelle gibt einen Überblick über alle neuen Sätze und die entsprechenden Quellen/Administratoren:
 
Euro Short-Term Rate
Daily Sterling overnight index average lending rate
Swiss Average Rate ON
Secured Overnight Financing Rate
Tokyo Overnight Average Rate Final
Administrator / source
European Central
Bank
Bank of England - SONIA
SIX
Federal Reserve System
Bank of Japan

Symbol
O/N fix length

ESTREZON_
GBPSONIAON_
CHFSARON_
USDSOFRON_
JPYIBOPROVON_
Symbol O/N
ESTR.EZB
SONIAGBP.SONIA
SARON.CH
SOFR.FED
TONAR_FIN.NBJP.FIX
Name
€STR
SONIA
SARON
SOFR
TONAR
LIBOR Alternative
Risk Free Rates
EUR
GBP
CHF
USD
JPY
Infront vwd page
2095
1845
1843
1838
1835
Working group
European Central Bank
Bank of England
Swiss National Bank (SNB) - The National Working Group on Swiss Franc Reference Rates
Secured Overnight Financing Rate Data - FEDERAL RESERVE BANK of NEW YORK
Bank of Japan
Method

backward looking

 
 
 
 
Type

"Unsecured,
overnight"

"Unsecured,
overnight"
"Secured,
overnight"
"Secured,
overnight"

"Unsecured,
overnight"

ON rate

-0,576

0,193
-0,705
0,050

-0,023

Last Updated

28.12.2021

28.12.2021
28.12.2021
28.12.2021

28.12.2021

Trading Date

27.12.2021

22.12.2021
28.12.2021
22.12.2021

24.12.2021
Average rates
| | | | | | |
| --- | --- | --- | --- | --- | --- |
| 1W | -0,57669 | - | -0,69750 | - | - |
| 1M | -0,57619 | - | 0,00000 | - | - |
| 3M | -0,57299 | - | -0,71810 | 0,04967 | - |
| 6M | -0,56978 | - | -0,65000 | 0,04911 | - |
| 9M | - | - | -0,73000 | 0,04956 | - |
| 12M | -0,56589 | - | -0,69000 | - | - |
IBOR / compound / TERM rates
| | | | | | |
| --- | --- | --- | --- | --- | --- |
| 1W | -0,589 | - | -0,7037 | - | - |
| 1M | -0,614 | 0,193 | -0,7023 | 0,05141 | -0,035 |
| 3M | -0,59 | 0,322 | -0,7063 | 0,07521 | -0,03688 |
| 6M | -0,544 | 0,4872 | -0,714 | 0,1711 | -0,03795 |
| 12M | -0,495 | 0,773 | -0,7177 | 0,36035 | - |
"-" = keine Daten veröffentlich
"*" = in Vorbereitung
Wir unterstützen Sie gerne bei der Abbildung der neuen IBOR-Rates im Daten-Feed und Terminal.
Im Infront Professional Terminal finden Sie die Daten hier.