Understand the game. Pick the winners.
Top-down or bottom-up? We can do both. Analyze the market at a high level and drill down to specific companies – Infront helps you identify top performing industry sectors or indices and pinpoint differences between comparable companies.

Find peers. Compare companies. In seconds.
Use our predefined peer groups and unique screening tools to identify of the best comparable companies — even within highly specific industry sectors. After saving your peer group, access market multiples and financial ratios in a single click. And don't worry, full calculation transparency is available.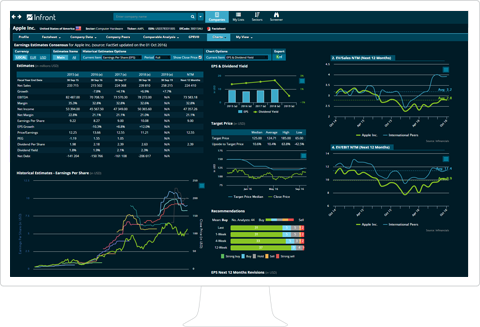 Customize and share reports quickly
Export a pre-made report from the Infront terminal to Excel with a click, then customize it with data and charts. Generate a full company report in HTML or PDF format and instantly share with your colleagues or clients via email, IM, social media or directly in the terminal to a user group of other Infront users you define.
Publish your proprietary research
It's never been easier to publish your own proprietary research with your clients or internal users via Infront.  With Infront's browser-based admin tools, you can provide access to your content at a user or company level and set approval processes.