Data and Analytics
We provide high quality analytics on an unmatched global coverage of over 70,000 active public companies. Our recognized expertise in cross-country standardization ensures consistent financial calculations across markets and industries.
Standardized Financials
The standardization process groups like items together into a standardized model that is common for all companies operating in the same industry. It also separates nonrecurring from recurring items in order to allow analysts to properly assess a company's performance.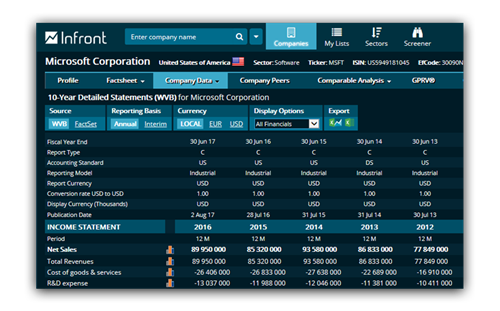 Multiples and Ratios
Instantly access market multiples (current, historical, forecast, LTM, NTM) and financial ratios (growth, profitability, margins, liquidity, capital structure, asset utilization).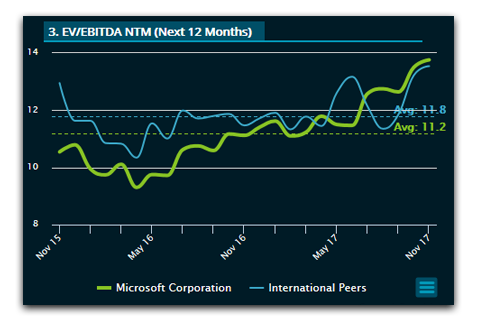 Peer Analysis
Take advantage of our predefined peer groups and unique tools for the identification of the best comparable companies — even within highly specific industry sectors. After saving your peer group, access market multiples and financial ratios in a single click. 
Peer Groups
Use our predefined peer groups provided for any selected company and customize them to your needs. Or build your own peer groups using our patented Peer Tracker tool.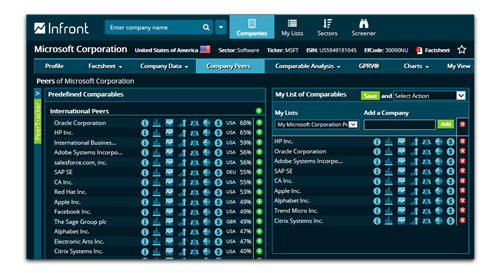 Comparable Valuation
Our comparable analysis tables are an effective way to easily and quickly compare companies side-by-side, using either predefined or user-defined lists of comparables.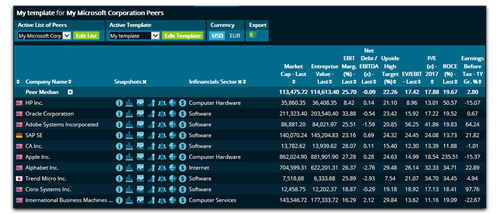 GPRV Analysis
GPRV is a patented tool for assessing the relative value of listed stocks using fundamental analysis. It provides a graphical view of a stock's attractiveness through 4 categories: Growth, Profitability, Risk and Value.
Report and Models
Build your comp table on the web and export it to Excel in one click. When you need to refresh your data, it's just one more click. Want a full company report in PDF format? Again, you are just a click away. If you have more time, you can even browse our model library.
Company Factsheet
Get a PDF report, customizable and downloadable in one click, that summarizes all key information about a company and comparable companies.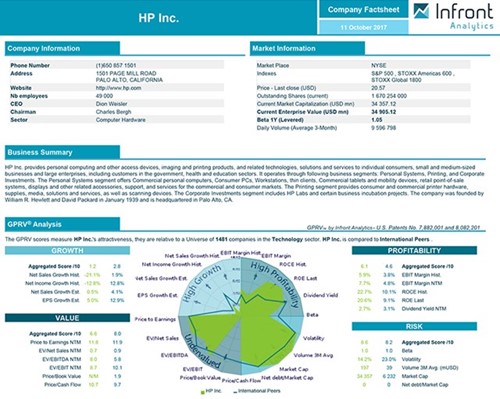 Data Export
Tools for efficient data sharing:
- Chart download, to print/export as an image or PDF,
- Quick export to Excel, to export as a non-refreshable model,
- Smart export to Excel, to export as a refreshable model.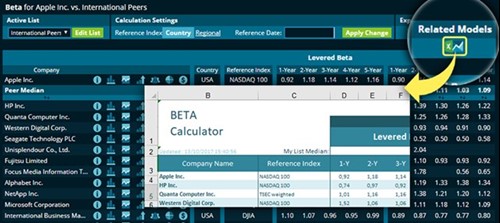 Excel Modeling
Create your personalized and customizable Excel reports with the Excel add-in.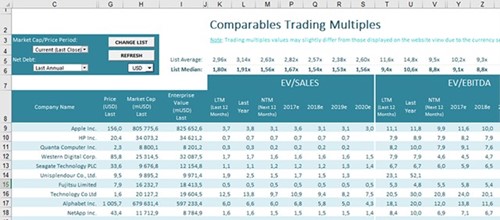 Market Analysis
Top-down or bottom-up? We can do both. To analyze the market from the big picture all the way down to individual companies, we help you identify which industry sectors or market indices are performing best and pinpoint relative differences between comparable companies.
Market Screener
A dedicated interface in the platform, the Market Screener allows you to filter the database according to your set of criteria (including universe, industry and financial criteria). Search results can then be analyzed and/or saved.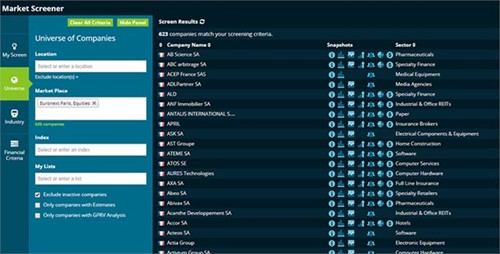 League Tables
League Tables are lists of companies, belonging to an index, a sector index or a personal list, ranked according to a financial criterion. Use them, for instance, to analyze an equity market across industry sectors.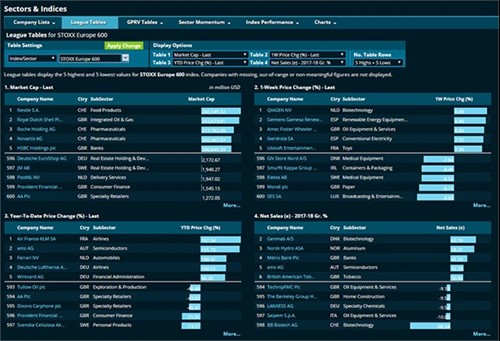 Index/Sector Analysis
Get an overall view of a specific company universe with the company lists – allowing you to conduct a top-down analysis on all active companies for any selected country, index or industry sector.