Overview
Our solution is designed for the daily tasks of treasury departments, asset managers, governments, and other institutions, allowing our clients to benefit from Infront's leading front-end technology and delivering a comprehensive and easy-to-use terminal that puts you ahead of the game. We developed our solution with the strictest Fixed Income, Money Market, and Foreign Exchange data requirements in mind, giving you access to a broad universe of real-time global data from major banks, brokers, exchanges and newswires.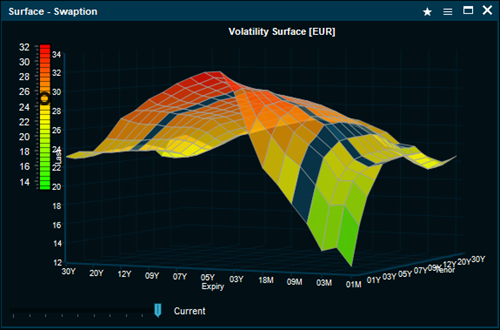 Broad coverage
With Infront, you will have access to hundreds of price sources from regional banks, global brokers, and exchanges in real-time. Our comprehensive Fixed Income and FX data provides you with direct OTC contributions from global banks in addition to global exchange data and inter-dealer broker data from Tullett Prebon,  delivering a comprehensive terminal to fulfill your needs.
Specialized data
Market insight
Analytics and tools

IBOR fixings, deposits, and reference rates
Swaptions, Caps and Floors
Forward Rate Agreements
Plain Vanilla, Currency, and tenor basis Interest Rate Swaps
Overnight Index Swaps
Deposit rates
FX Spots, Forwards, and Options
Benchmark, mortgage, and municipal bonds
Treasury bills and bonds
Corporate bonds
Credit Default Swaps, including iTraxx indices
S&P Ratings

Tullett Prebon information
ICE Futures Europe: commodities and financials
Dow Jones Newswires: Global FX and Fixed Income News
TDN Finans
Ritzau Finans
Nyhetsbyrån Direkt

 

Spread matrix
Curve interpolation and graphical analysis
3D Volatility Surface
FX Forwards calculator
Excel integration
Desktop API for R and Python
Keeping up-to-date
Choose to inform your global trading and investing decisions with pertinent industry-leading news, event data and archives—published on the Infront Professional terminal first with accompanying analysis and commentary from industry-embedded journalists. We provide access to the most thorough and up-to-date sources of real-time, global news and analysis through Dow Jones Newswires, Direkt and TDN in an intuitive and powerful environment.
Intuitive and powerful
Make the most of your data with the Infront's analysis tools and intuitive user interface: Our pre-made desktops gives you an overarching view of markets, instrument types, and quantitative analysis tools. Analyze and compare instruments with our powerful chart engine. Interpolate yield, forward and swap curves for credits of various rating levels, and more. Obtain discount factors, cross-calculated FX spots and FX forwards for any broken date and pair. 
Infront Treasury at a glance
 TREASURY NEEDS

HOW WE HELP

Optimize long-term funding

· Corporate bonds, CDS, loan pricing

· Credit ratings, debt structure

· Screen for peer companies using in-depth data on over 65,000 listed companies, with up to 30 years of fundamentals and with consensus estimates from Factset and SME Direkt

· Display by country for 0 to 40 year treasuries, bond futures and swap instruments; benchmarks out to 10 years

· FX forwards, interpolated rates, spread matrix, 3D Volatility Surface Charts, and Advanced Curve Charts

Mitigate currency risk and maximize execution quality

· Spots, forwards, swaps, options and money markets

· A comprehensive range of in-depth data on the OTC markets from Tullett Prebon, operating in 21 countries, with over 1600 brokers globally

Manage credit and counterparty risk

· Ratings from Standard & Poor, one of the world's major credit-rating agency

Manage short-term liquidity and optimize hedging

· Money market views including fixings deposits, repos, central bank rates, commercial paper, short term interest rates, interest rate derivatives, ABS, MBS and CDOs

· FX spots across 175 currencies from trusted sources in over 180 countries

· Position valuation and portfolio analysis for pricing and reference data – end of day and intraday

        · LIBOR, EURIBOR and other IBORs in real-time

· OTC contributed data from leading Nordic banks and brokerages