Global FX and money market coverage
Infront provides global coverage of the FX and money markets, from sources including inter-dealer brokers, contributing banks, exchanges and central banks:
FX spot
FX forwards
FX fixings
Deposit rates
FX futures and options
FX indices
FX news
Create your ultimate FX desktop
The Infront terminal helps you get a complete overview of the global FX market in real-time.  Use powerful search tools to find the prices you need, or choose ready-made global overview pages.  Add an FX spot grid, forward curves, charts and more to create your ultimate FX desktop.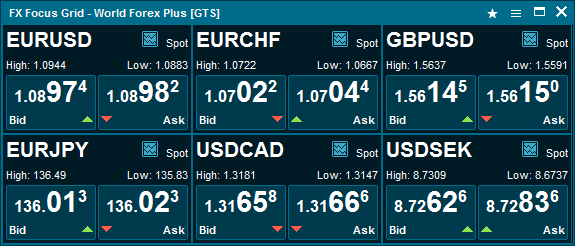 Easy-to-use FX forward calculator
Calculate FX forward points and rates for any currency pair and value (settlement) dates, and see the forward table or chart the curve with a click. The calculator adjusts for non-banking days and informs you about specific holidays and weekends, and you can easily setup a broken date schedule with several forwards on different dates.

FX trading solution for corporate clients
Infront enables fast, reliable electronic FX trading that banks and FX dealers can offer their corporate and institutional clients.  With the Infront FX trading solution, you can trade any currency pair, spot or forward, with support for NDFs and both RFQs and automated dealing. The system is flexible in setting up differentiated client categories and an efficient workflow for FX dealers.