Infront Studios
Showcase your company with professional videos
Video is the communication tool of choice. Infront Studios can help you produce professional videos so that you can communicate with investors, your target markets and other stakeholders in a modern, dynamic format.
Video is the preferred media for all types of information. It has become a critical component in business, politics, communication, and social media.   Since video appeals to both sight and sound, it captures the attention of the viewer immediately and makes an impression. 
Follow daily financial updates
Infront Studios produces financial news and educational programs in video format. With professional studios in Stockholm, Oslo and Helsinki, we offer daily updates on markets and trading together with themed programs on companies, industries, funds and sustainability. Trading Direkt, Talking Sustainability and Healthcare Direkt are examples of our recurring programs aimed at keeping you up to date about the market drivers in each segment.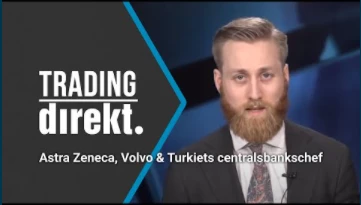 Promote your company via video
We also offer tailored packages to listed companies and share the resulting videos in our distribution channels for greater exposure. Showcase your corporate brand, raise your profile and create engaging touch points with your stakeholders using the Infront Studios services. We can help you with the entire process, from preparation to production to distribution so that you can reach a larger audience. Our IR video packages include:
Insight Direkt
Insight Direkt is a combination of three services designed to promote your investor communication.
Company Introduction
We cover what your company does, when was it founded, your mission and goals, and your financial standing.
Report Commentary
We interview you about the previous and the upcoming quarters, the relative prognosis and events in the pipeline.
Industry perspective
In the Perspective video, an individual in your industry is interviewed to provide a new perspective on your company and your sector.
Live digital annual general meetings
Meet your shareholders online, with all the functions of a physical event. In cooperation with Legimeet, Infront Studios arranges live digital annual meetings at the Infront Studios.
Shareholders login to the meeting with a secure BankID. Presentations from the board of directors and management, and interaction with the shareholders are all managed according to standard procedure and applicable laws for annual general meetings. Discussion and voting are carried out in real-time without any time lag, with the results available immediately. You can adapt the view to incorporate your brand, logo and colors, and include your own images and video clips as desired for the best brand communication and shareholder experience.
Company film for IPO
Create a company film to support you in the capital raising phase of the IPO process. We base it on your story and interviews with key company leaders and distribute the videos across our channels. See the company presentation film produced for Spotlight Group in preparation for their IPO.
Financial report webcast
Present your financial reports professionally. Infront Studios can manage your webcasts including live Q&A with viewers during and after the event. In conjunction with your report presentation, you can do a Report Commentary where your company representative is interviewed by a moderator to create a sharp summary of your company's financial standing.
Capital market days
Film your events in our studios or on site at a venue of your choice. Watch an example of a capital markets day production here.
News release
Comment and communicate about your important company events live in Infront Studios or online via a Microsoft Teams link. Viewers can ask questions via a chat function if you choose to have a Q&A session.
Want to know more about how you can communicate via professional company videos?
Get in touch with our studio experts to explore the possibilities.
Contact Direkt Studios