Access research reports in the Infront Professional Terminal
Get access to research reports in real time with a customizable display in the Infront Professional Terminal.
Infront Research
Real-time research reports
Infront provides access to research from several providers in the Infront Professional Terminal. By creating alerts, you are notified immediately when new research is published relating to companies you are following.
Research reports are linked to symbols and include date, analyst, industry and more. Using the archive functions, you can view previous reports. Create and apply custom displays and filters to bring everything together in one place and make your workflow more efficient.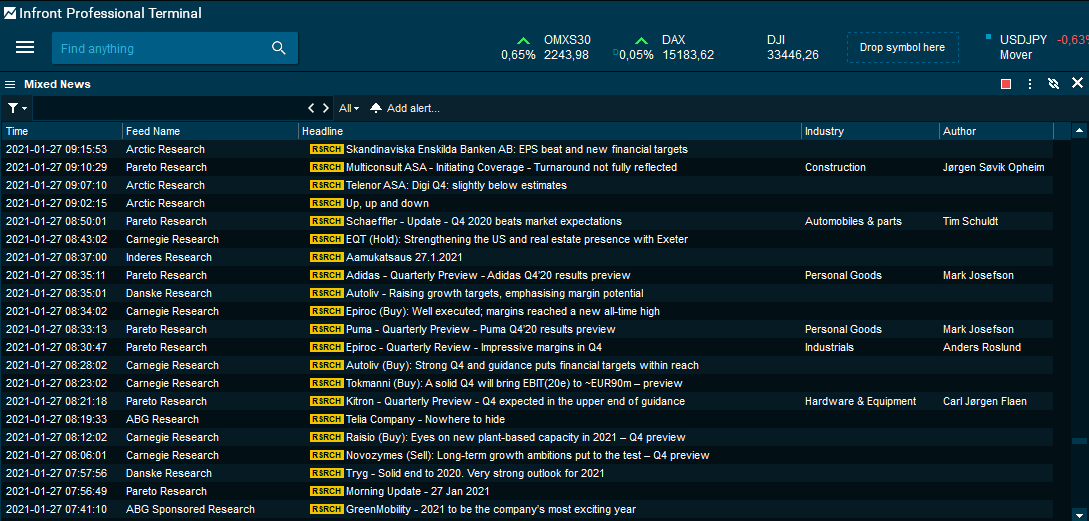 Request access directly from the terminal
You can request access to a free preview of the reports from the available research providers. For full access, you need to be a customer of Infront and request access to the research via the MyProfile function. If the request is approved, you will have access to the full reports in real time. 
Selection of providers
ABG Sundal Collier
ABG Sponsored/Introduce
Acquisdata
Arctic Securities
Carnegie
Danske Bank
Edison Research
Inderes
Morningstar funds research
Morningstar equity research
Pareto Securities
Proactive Investors
SEB Equities
SEB Equities Sponsored
Vator Securities
For inquiries regarding research or if you would like information about adding your research in the Infront Professional Terminal, please contact: