Your road sign at the point of sale
Compass, a module of Infront Investment Manager, provides you with internal recommendations and lists required for the advisory process.
Compass
From consistently providing up-to-date product recommendations to supplementary market information and individualized offers, Compass shows you efficient methods of sales information and control. 
Compass supports the distribution of internal research results and product recommendations of all asset classes at the point of sale. Avoid inconsistent data from multiple sources and relieve your on-site advisors by providing them with targeted sales arguments and background information on the selected products.
Compass is a module that can be integrated into the Investment Manager to varying degrees. 
Use cases
Use cases
Provision of current result lists, even several times a day
Setting up of product comparisons
Distribution of individual result lists according to organizational units, regions, etc.
Retrieval of additional market information (real time) for the professional preparation of sales talks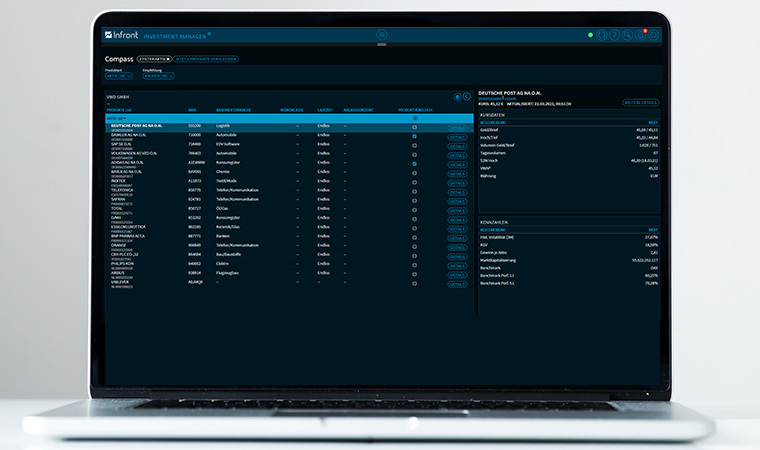 Related products
Infront Investment Manager
Designed to simplify your investment process.
Wealth Management
Asset Management
Investment Banking
Corporate Treasury & IR
Financial Media
Private Investors
Highlights
Real-time intraday as well as historical tick price data
Fundamentals, estimates and analytics, macroeconomic and money market data, and more
70+ easy to use market data widgets for various types of instrument data