Infront Treasury Solutions
Better performance with dedicated treasury solutions
Access a broad universe of real-time global data together with sharp tools and analytics to help you follow fast-moving markets, manage financial resources and risks, and optimize hedging strategies.
Navigate financial risks
Your priorities as Head of Treasury or CFO are clear: optimize long-term funding; secure short-term liquidity; optimize hedging; and mitigate currency, credit and counterparty risk. You need a dedicated and comprehensive information system so you can make well-informed decisions with increased transparency, better control and enhanced performance.
As you strive to manage your challenges, we can help you with our Infront Treasury Solutions, a cost-effective, intuitive technology that puts you ahead of the game.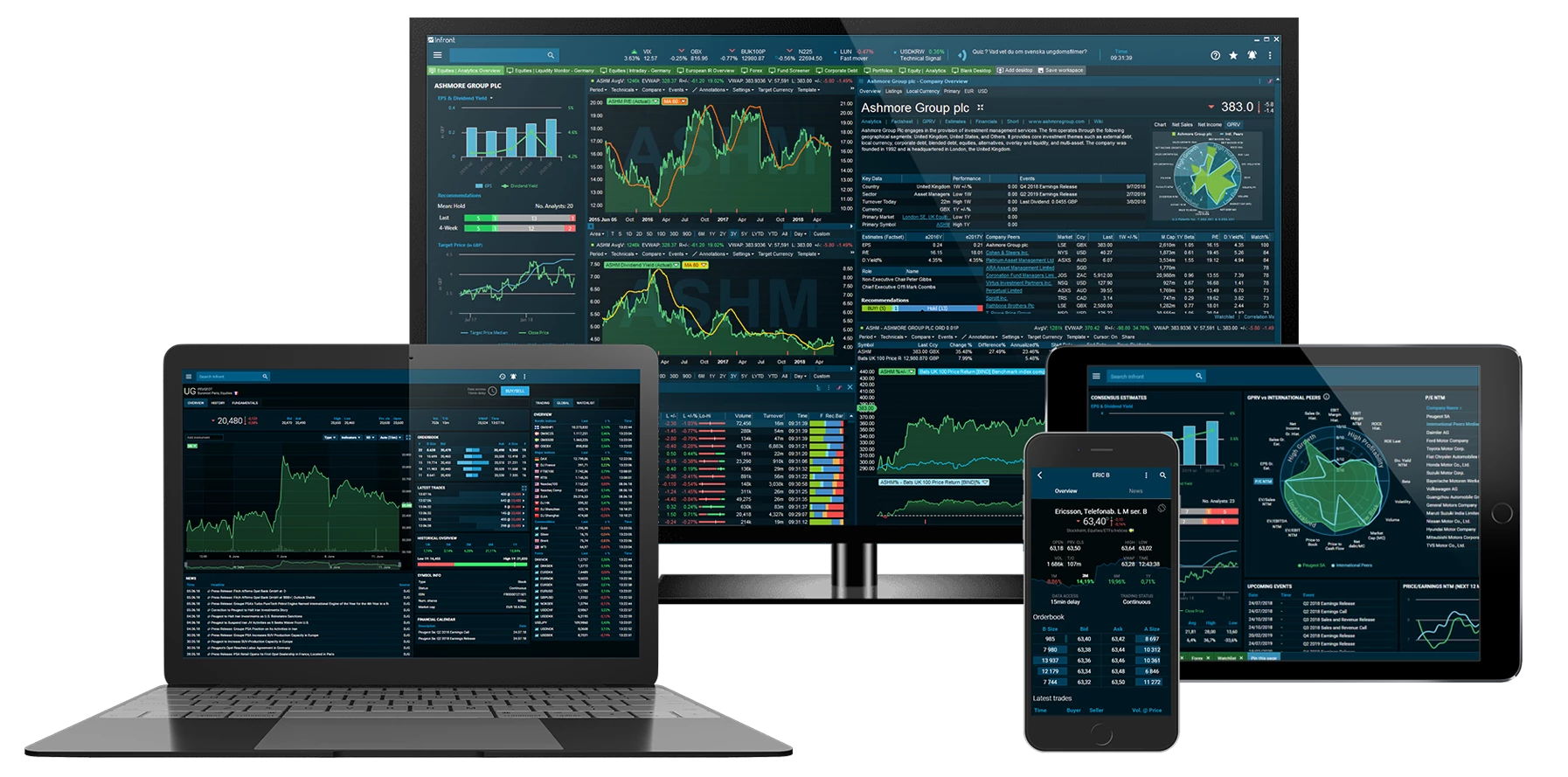 Modular solutions
Infront Treasury Solutions include two main products for the treasury professional: Infront Professional Terminal for Treasury and Infront Data Manager Treasury, both of which can be used together or separately for a comprehensive, flexible, and easy to use solution for your treasury needs. And you can streamline your workflow by connecting it all to your Treasury Management/ERP system via existing partners or customer integration.
Infront Professional Terminal
Find what you need, faster, in the solution designed with your treasury requirements in mind. The Infront Professional Terminal for Treasury combines specialized data with real-time global data, trusted market insight and extensive tools and analytics making it easy to stay on top of your investments.
Access hundreds of price sources from regional banks, global brokers, and exchanges in real-time. Comprehensive Fixed Income and FX data provides you with direct OTC contributions from global banks in addition to global exchange data and inter-dealer broker data.
Infront Data Manager
Get comprehensive market data directly in your Treasury Management System with automated imports via the internet to give you the data you need in a convenient and secure manner.
Choose data from our predefined Treasury packages or opt for any number of additional, customer-specific data packages providing coverage, for example, of equities, funds, bonds commodities and index values.
Fast and simple implementation for your TMS
The data can be implemented into existing treasury management, ERP and cash-management systems such as SAP, Coupa, Technosis, Reval, TIPCO, COPS, Trinity and Serrala or any other solution you might have in place.
Infront Treasury Solutions comprehensive data universe, tools and insights
Specialized data


IBOR Fixings, deposits, and reference rates
Swaptions, Caps & Floors
Forward Rate Agreements (FRAs)
Currency and tenor basis Interest Rate Swaps (IRS)
Overnight Index Swaps (OIS)
Deposits Rates
FX Spots, Forwards and Options
Benchmark, Mortgage and Municipal Bonds
Treasury Bills and Bonds
Corporate Bonds
Credit Default Swaps, including ITraxx indices
Central Bank Fixings/Reference rates
Indicative and Historical volatilities
Macroeconomic data
Analytics and tools


Spread Matrix
Curve interpolation and graphical analysis
Yield Calculators
3D Volatility Surface
FX Forward Calculator
Advanced Curve Chart
Excel Integration
Desktop API for R and Python
Integration to advanced PowerPoint add-in from Grunt.pro
Integration to third party systems
Market insight


Tullett Prebon Information
Dow Jones Newswires
Infront TDN Direkt
Infront Direkt News
Ritzau Finans
See for yourself!
Take a free trial or contact us to discuss your specific needs.