Infront IR Solutions
Complete solutions for investor relations professionals
Analyse your company data and compare with peers, communicate with shareholders and showcase your company to the investor community, all with Infront IR Solutions.
Better IR Communications
Investors want to know what to expect from your company and how the market is reacting to those expectations. Infront IR Solutions give you the tools to collect and analyse your data, compare with peers, communicate with shareholders, and showcase your company to the investor community. You can do it all faster and easier, and look better than ever.
Infront IR Solutions include a range of tools for the investor relations professional: the Infront Professional Terminal for IR, the Infront Consensus, the Infront IR Web Service, and Infront Insight Direkt. Read more about these products below or download our product sheet.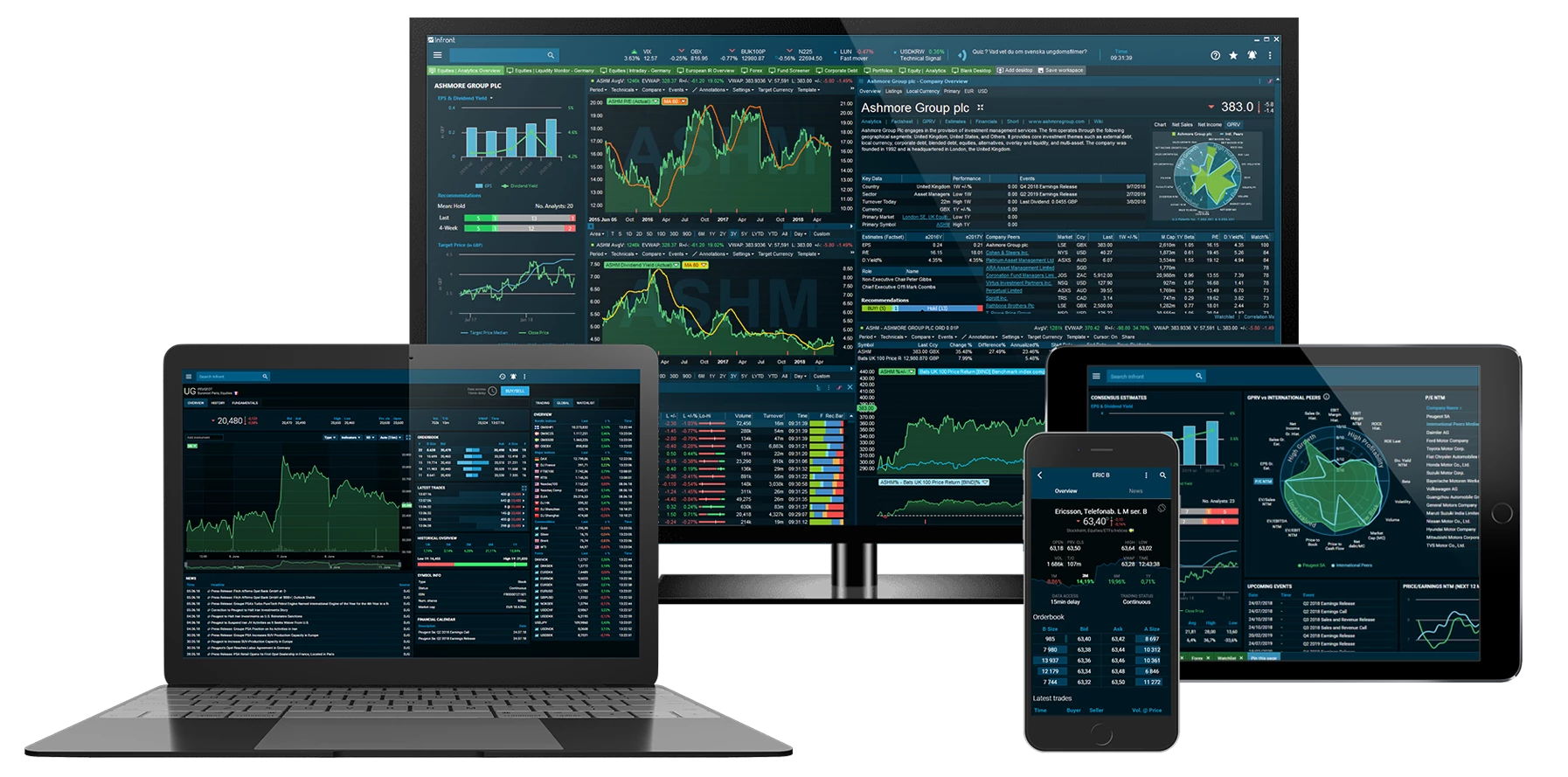 All in one place with Infront Professional Terminal for IR
You can have global market data and professional news covering more than 8 million instruments at your fingertips. Access in-depth financial data and analytics on over 70,000 listed companies worldwide. Get an instant overview of any company profile, compare to peer group or industry, and build advanced analysis templates with our powerful Excel add-in.
Indices, equities, funds, ETFs, derivatives, fixed income and FX
Global equity fundamentals, estimates and ratios
Global macro and business indicators data & estimates
Company and macro calendars with alerts
Annual and interim financial statements with 5-year history
Infront Consensus estimates with 4-year forecast, actuals and historical data
Infront Mobile apps

Quality estimates right on time with Infront Estimates
Infront Estimates collects and distributes the highest quality consensus to the market, so that you can communicate timely, clearly and easily with your investors. Covering over 1,000 listed European companies, the service maintains a unique position as the benchmark for consensus reports in the Nordics and now offers the same high quality consensus service to IR professionals across Europe. Current clients include Daimler, Unilever, H&M, Ericsson, Nokia and Electrolux. Some of the many detailed reports included are:
Preview consensus report – ahead of interim results
Post consensus report – updated after interim results
Analysts' reports – displays individual analyst estimates for each period

Infront report presentations - powered by Grunt
Create your presentations faster than ever. Your Infront data can be accessed via the Grunt PowerPoint add-in that links to your Infront excel reports. A fast and reliable data connection makes updating your presentations simple and reliable and provides a quick way of visualizing data and creating automated recurring presentations with minimal effort.
The add-in includes a wide variety of visualization options and features a rule-based design approach that ensures compliance with your 's style guide. In addition, a ready-made and fully customizable set of PowerPoint templates are included, covering your Infront reports:
Preview consensus –ahead of interim results
Post consensus – updated after interim results
Analysts' reports – displays individual analyst estimates
Any reports that you have created on your own using consensus data

Clean, concise overview with Infront IR Web Service
Show ready-made consensus and equity data on your company website. The templates are fully customizable so that you can create a look-and-feel that complies with your company´s style guide. The templates include:
Consensus estimates and actual results
Current recommendations with historical charts
Company fundamentals and key ratios
Equity performance data
Company news and press releases
Corporate events
Share pricing and order book
Share historical charts
Analyst coverage
Further customized widgets available
Top of mind with Infront Insight Direkt
Showcase your corporate brand, raise your profile and create engaging touch points with your stakeholders via the Infront Insight Direkt service. Infront produces professional videos about your company and shares them in our distribution channels for greater exposure.
Company Introduction
We cover what your company does, when was it founded, your mission and goals, and your financial standing.
Report Commentary
We interview you about the previous and the upcoming quarters, the relative prognosis and events in the pipeline.
Industry perspective
In the Perspective video, an individual in your industry is interviewed to provide a new perspective on your company and your sector.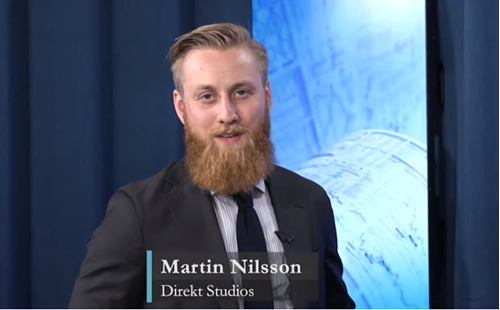 Infront IR has consistently delivered a detailed consensus for us since 2014 in a timely and correct way. It helps us to save time and resources and gives us an accurate view where the market stands regarding Ericsson results for the coming quarters and years.
Vice President of IR, Ericsson