Infront Private Investor Solutions
Digitize your investment offering
Deliver multi-asset global market data and electronic trading services to your clients in your existing infrastructure and increase your order flow.
Empower your clients with online trading solutions
Are you using outdated technology to support client orders, or worse, still placing client orders manually? Get a competitive edge by offering your clients online professional trading tools to send their orders directly to your execution system. With a trading platform that is fast, reliable, and easily accessible, they can go from insight to action in seconds, which means better business for both your clients and for you.
Infront's online trading solutions give your clients everything they need to research and trade the markets, while you cut time to market and lower maintenance costs. Read more.
Quick, easy, reliable
Equip your clients with comprehensive global market data, news and analytics tools together with powerful execution capabilities. Add your own proprietary data and make it all accessible via your own infrastructure - quickly, easily, reliably.
Infront Trading Solutions are intuitive to use, and easily accessible on mobile devices, so that your clients can keep up with the markets, and you can stay competitive.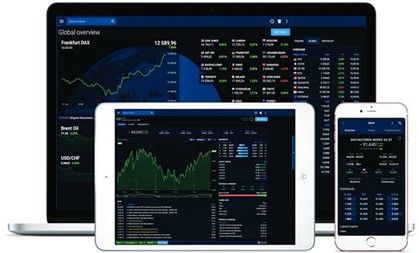 Benefits for you
Managed market data
Integrated trading
Rapid time to market and lower maintenance costs
Reliable and robust
Share your own proprietary news, research, market prices and more
Easily create and manage user accounts and access to market data and features
Benefits for your clients
Lightning fast and interactive user interface
Electronic trading on markets provided by you
Powerful trading functions including click trading
Access global markets and news in real time
Advanced charting tools