The smart alternative for financial data
The Infront Professional Terminal combines real-time global market data, news, analytics and electronic trading in one integrated platform, putting financial markets at your fingertips.
Infront Professional Terminal
With access to your entire workflow in a single solution, you can make better investment decisions, faster. Take a free trial and find out why professional users are replacing their legacy terminals with the Infront Professional Terminal.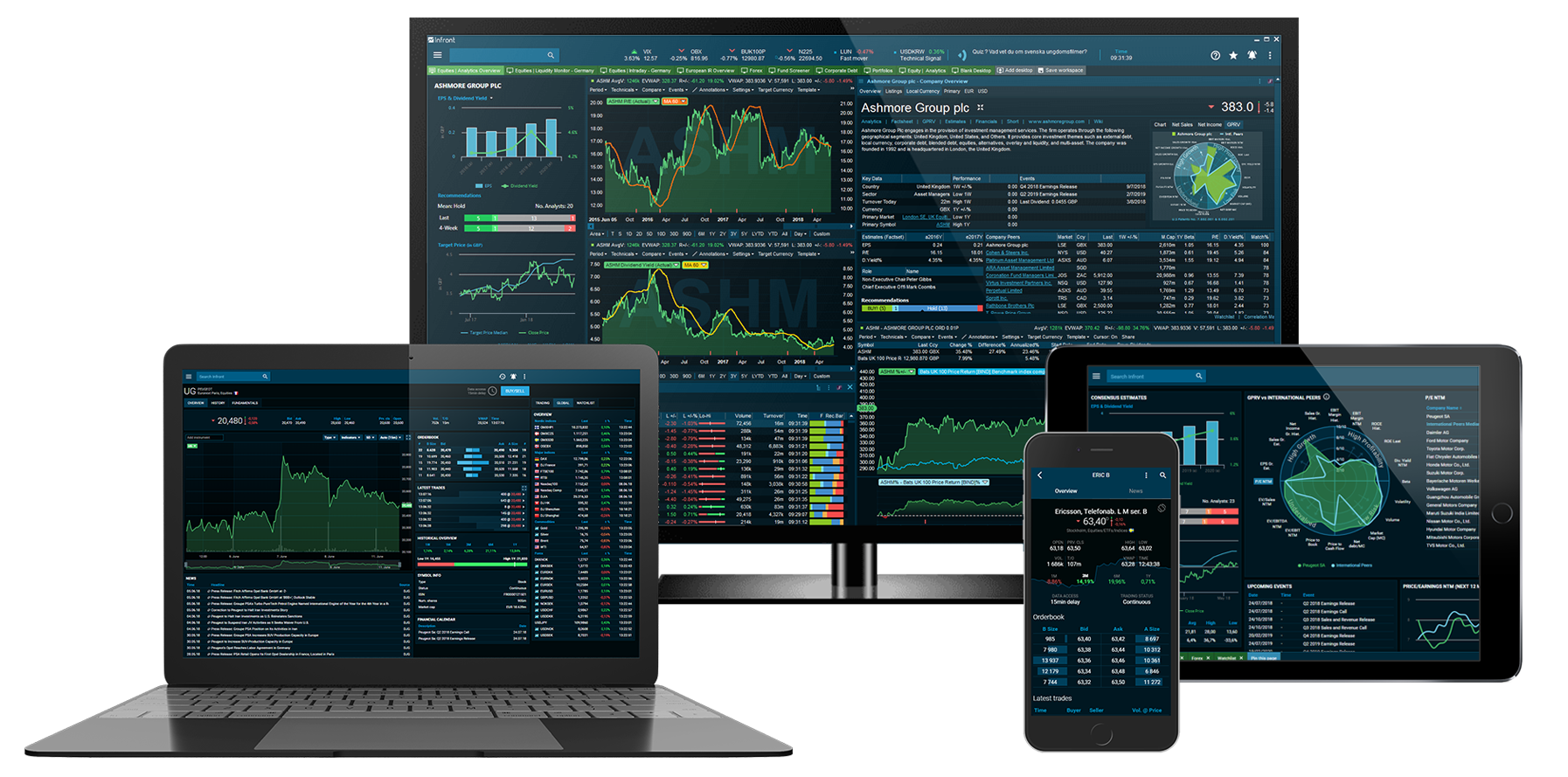 Benefits for South African users
Full-depth, Level 2 real-time data from the JSE
South African Macro economic data with up to 20 years history
Fundamentals and estimates on listed African and South African equities
Over 20 news sources covering South Africa, including JSE SENS
South African and Global Unit Trust fund coverage
South African rates with history
As a 15 year Bloomberg user I found the transition to the Infront platform very intuitive and easy to make. The tools, layout and customisable modules provide impressive functionality for professional investors."
Ashay Deochand, Partner at Chandos Capital
Discover investment opportunities faster with rich data and intuitive tools
Access global market data
Access data from over 80 exchanges, MTFs, contributing brokers and more. Combine equities, derivatives, fixes income, commodities, funds, FX, macro and money market data in your own custom interface for an unparalleled view of the market.
A world of analytics
Get in-depth financial data and analytics on over 70,000 listed companies worldwide. Screen the market for investment opportunities, get an instant overview of any company profile, compare to peer group or industry, and build advanced analysis templates with our powerful Excel add-in.
Powerful electronic trading tools
Trade both listed and OTC products in multiple asset classes with over 600 global counterparties. Manage your order flow seamlessly and optimize execution performance in real-time.
Low cost of ownership
The Infront Professional Terminal is easy to install and requires no dedicated infrastructure except for an internet connection. Auto upgrades mean you need less IT support to maintain user terminals, and you can turn markets on/off in real time per user making administration truly easy.