Infront's data offering
Infront provides global market data from various exchanges, specialists sources, professional news agencies and other relevant financial data sources.
Content Overview
Exchange Data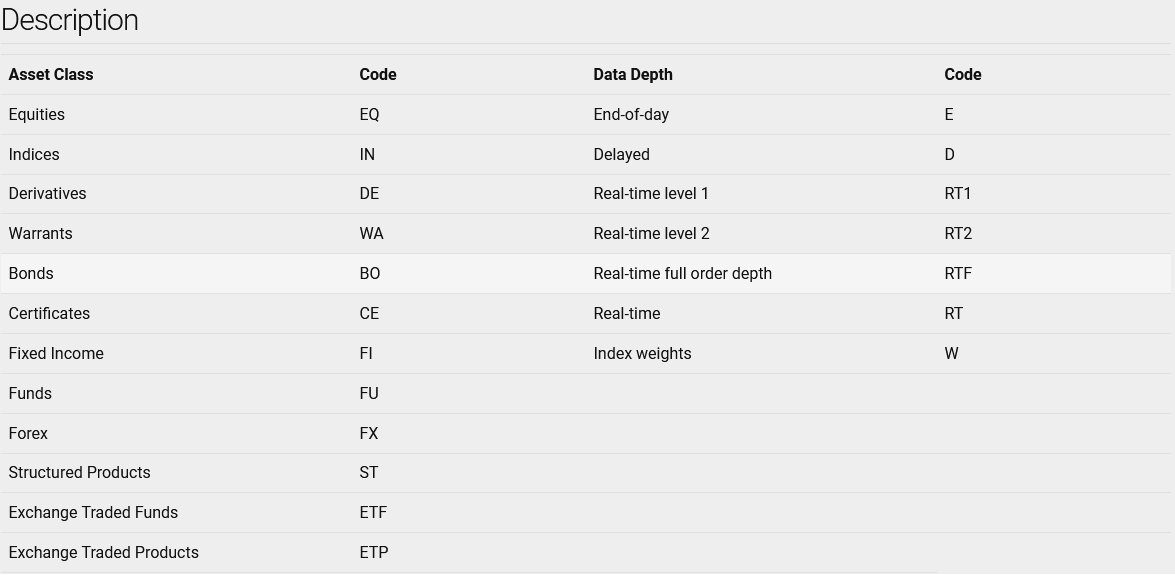 European Exchanges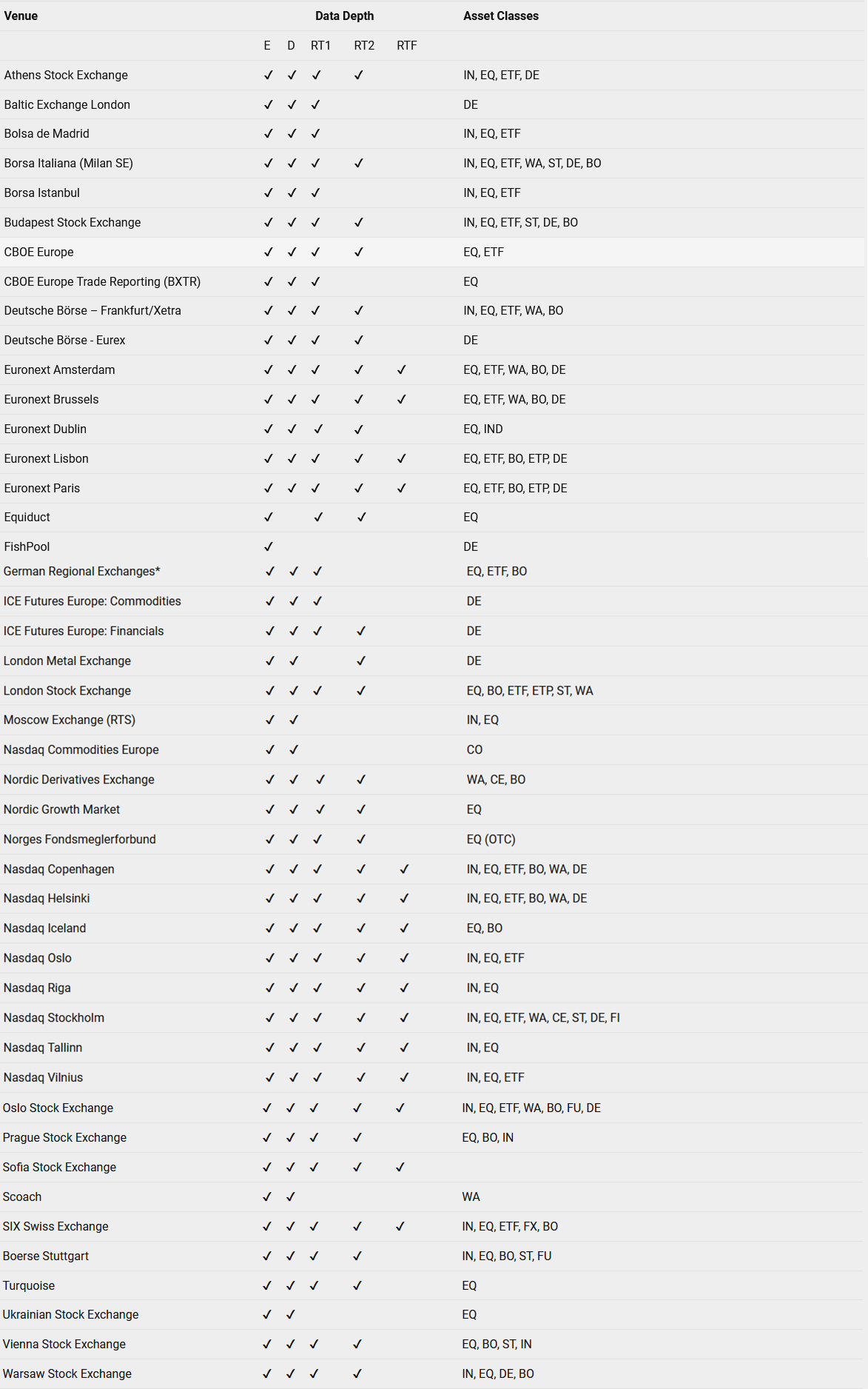 North American Exchanges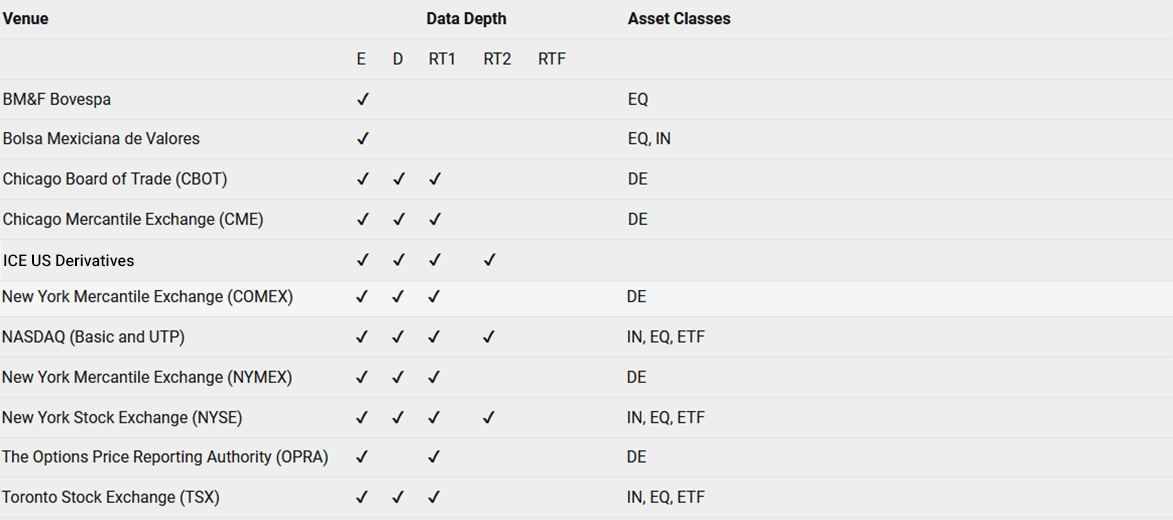 Asian Exchanges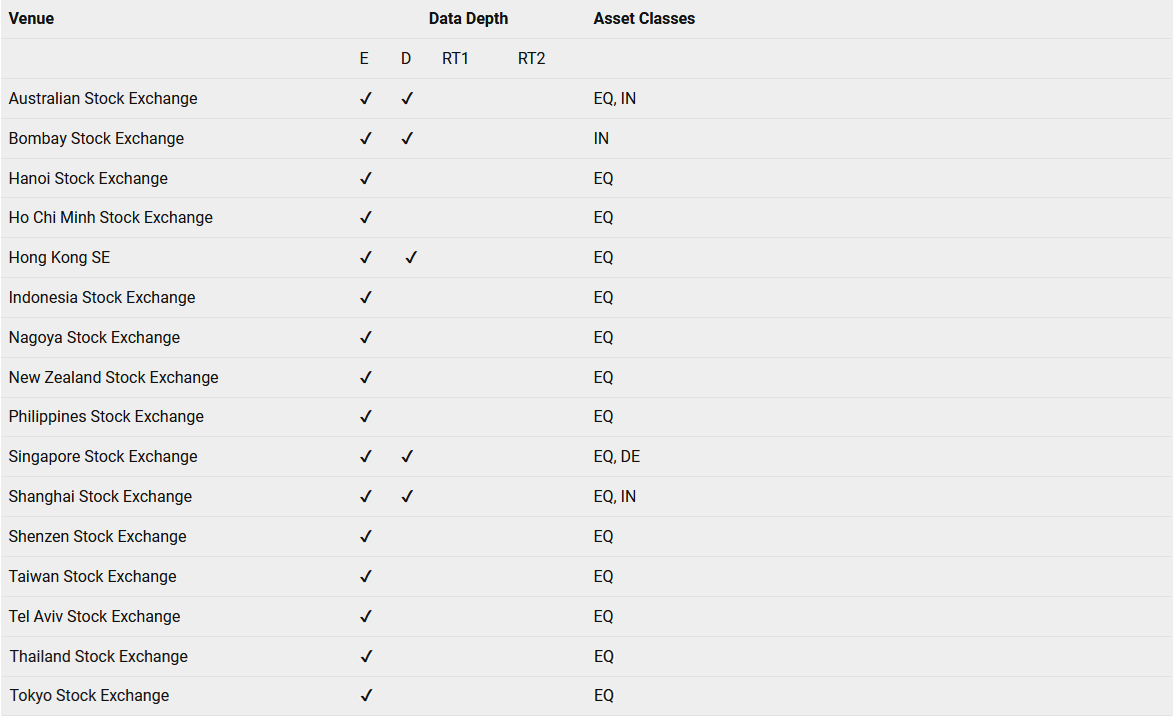 African Exchanges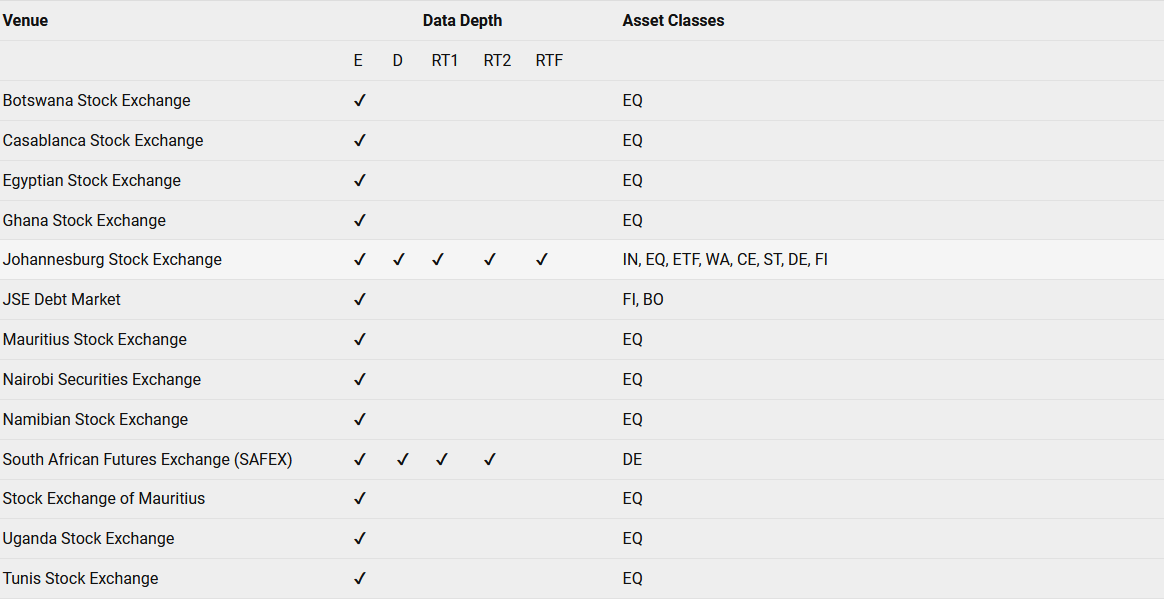 Cross Market Indicators services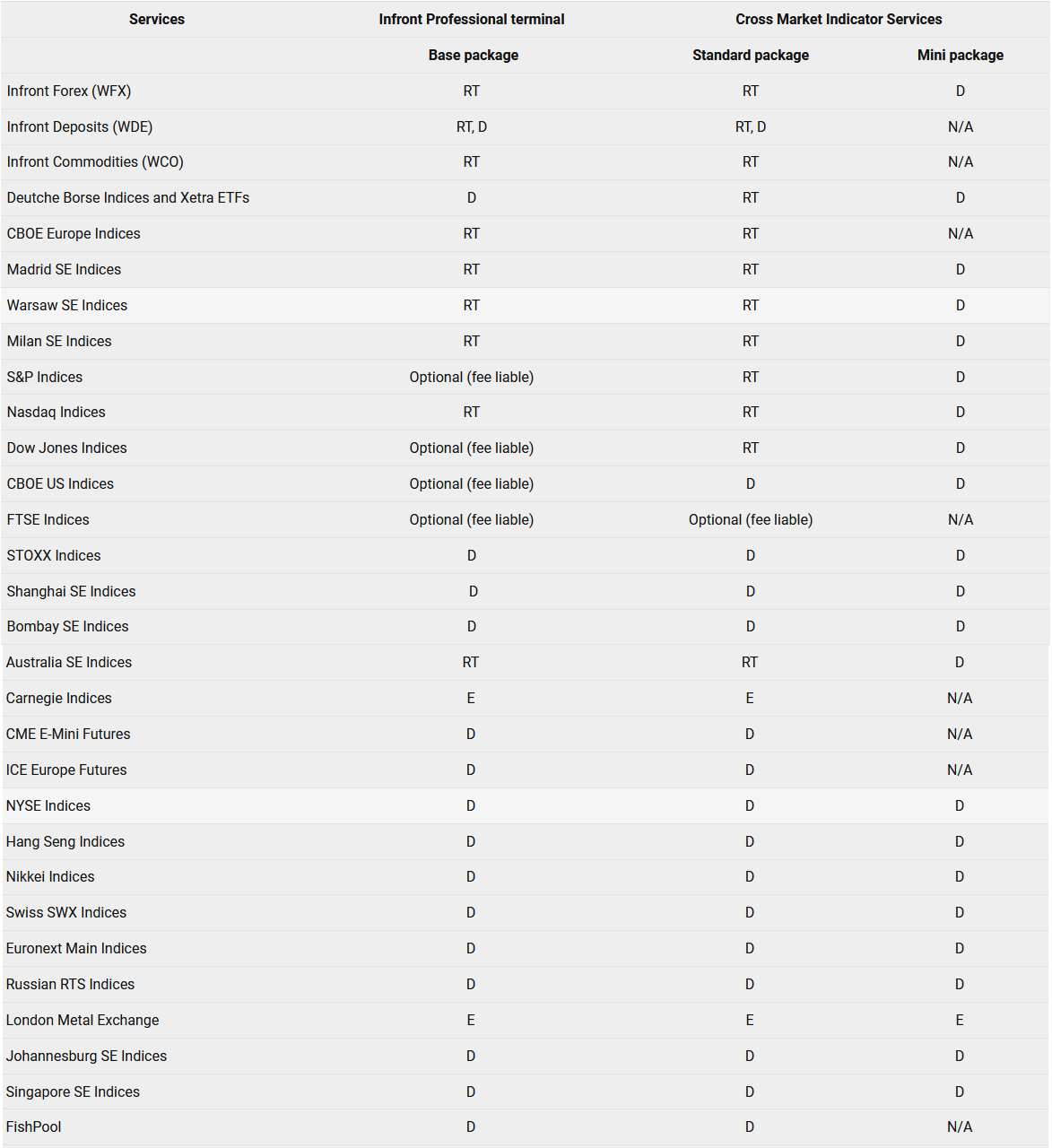 Index services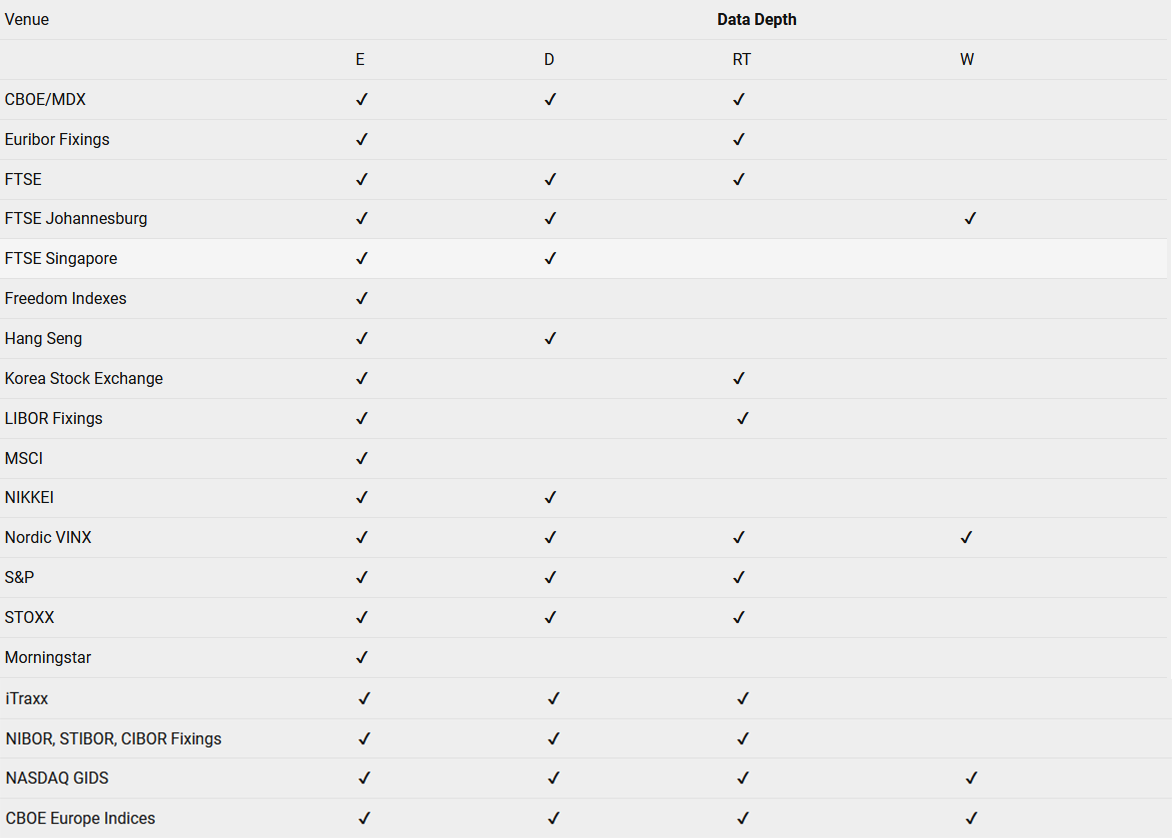 Contributed Data
Infront receives and distributes contributed data from leading banks across Europe, including FX Spot and Forwards, Deposits, Forward Rate Agreements, Benchmark Treasuries, IBOR Fixings, bonds and more.
Bonds reference data
Infront provides detailed reference data for corporate bonds, including coupon type and frequency, amortization, seniority and call schedules.
CBOE Europe Trade Reporting (BXTR)
CBOE Europe Trade Reporting Services are available under the exchange code BXTR. BXTR is presented both as a separate market, and consolidated with other sources in the Level 2 consolidated trade ticker, giving Infront users the full consolidated picture of European equities markets. BXTR includes live data from dark pool venues such as UBS MTF, ITG POSIT and many others.  In addition to the regulated MTFs, the BXTR service also covers OTC trades data such as broker systematic internalizers.
Estimates and company data from Factset
Infront provides estimates and company data from Factset covering all major listed companies worldwide.  The Factset service includes estimates, sales, profit and earnings data, recommendatio
Infront Equity Analytics
Infront provides high quality data and analytics on listed companies:
Data on more than 65,000 global listed companies
Company financials with up to 30 years of history
Earnings consensus estimates for next 3 years
Historical and forecast multiples and ratios
International, regional and domestic peer discovery
Unique graphical tool for evaluating growth, profitability, risk and value
Downloadable fact-sheets
Infront Nordic Estimates
Infront Nordic estimates from SME Direkt is the leading Nordic forecast- and analyst service with focus on consensus earnings estimates for stock-listed companies in the Nordic region. Contributors to the service are the leading banks and brokerage firms in the Nordics as well as the leading international investment banks. The service includes:
Consensus estimates for the next 3 years
Sales, profit and earnings and dividends data
Price/earnings ratios
Recommendations
Reported results and estimated results for next year
Global funds data
Infront provides global funds data from Morningstar on more than 50.000 funds and ETFs globally Infront users have access to consolidated fund overview pages presenting performance, risk and holding data, complete historical performance data and KIID documents.
Interdealer broker data from Tullett Prebon Information
Tullett Prebon Information is the leading provider of independent real-time price information from the wholesale inter-dealer brokered financial and commodity markets. The service includes FX spot and forwards data, deposits, forward rate agreements, benchmark treasuries, currency basis swaps and interest rate swaps.
Local fundamental data
Infront provides fundamental data from local sources.
Ritzau Fundamental data provides financial statements for Nasdaq Copenhagen listed companies.
Profile Media provides financial statements for JSE listed companies.