In this short video, we highlight the key screening features in Infront Analytics.
Rapid discovery, deep drill-down Infront Analytics includes powerful features to help you identify new investment ideas quickly, and then to drill down into extensive company analytics, real-time data, trading and more:
Keyword search: Identify relevant companies by searching for keywords contained in their business summary.

Universe and industry filters: Narrow search results by applying filters for geography, market place, index constituents or industry sector.

Financial criteria filters: Combine multiple filters based on more than 150 financial criteria.

Instant results: Instantly see a list of companies that match your search criteria, as you search.

Analysis widgets: Begin your analysis directly from the results page with rollover widgets.

Saved searches: Save your search and re-use it later.

Export screen results: Export your list of companies into a custom list in the Infront terminal to work further with real-time data, charting, trading and much more.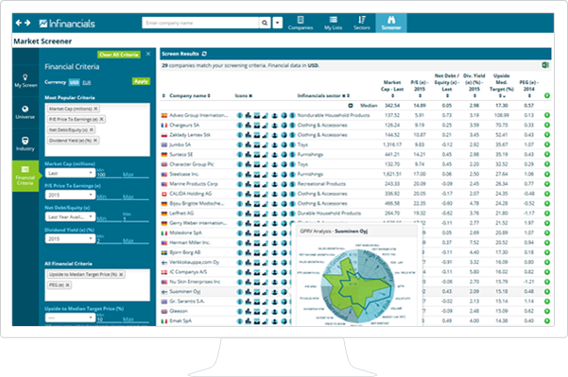 How to access Infront Analytics
Infront Analytics is included in Infront Plus. Free trials are available whether you're currently using another version of Infront, or would like to explore Infront for the first time.