Keep your watchlist in the cloud
Forget about maintaining duplicate instrument lists. Create a list on your office workstation, laptop at home or mobile device and automatically sync in the cloud. Real-time data, charts, news, analytics and trading are always a click (or tap) away from your list, so you'll always have critical info at hand.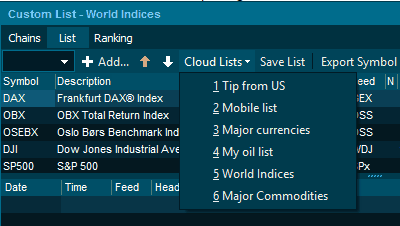 New light theme, mutual funds and bonds improvements
The Infront terminal is even more versatile with version 6.2. Now, users can choose between the standard dark blue theme (we call it "northern lights") or a new light theme. The mutual funds module makes it easier to screen funds by searching based on portfolio manager, income and holdings, and new views are available for fixed income funds. The bonds module now includes real-time calculation of yields and spreads, directly in the Market Window.
Infront Mobile: A terminal in your pocket
The new Infront Mobile apps for iPhone and iPad are the best yet, and add content and features you'd expect to see only in the Infront terminal. From your instrument list (now automatically synced with the terminal), you have access to a wealth of data, including: in-depth equity analytics and estimates, news with full-text search, market calendar, index overviews with leaders and laggers, company descriptions, broker statistics, heat maps showing instruments by turnover and performance, and lots, lots more.
Check out the video below for more on Infront Mobile:
Tools for demanding traders
We've also made major improvements to the Infront click trading module, making it an even more powerful tool for the most active traders. Check out the details on click trading in a separate post.
Get off the fence. Upgrade to Infront 6 now!
If you've been waiting to upgrade to Infront 6, wait no longer. Infront 6 is where all the innovation happens from here on in. Make sure you get all the new features and improvements by getting onto the latest version.
Most users can upgrade from directly within the terminal, or by downloading the latest software from our website. If you aren't able to update software on your own workstation, contact Infront Support and we will work with your IT department to help you upgrade.