With Infront, you are equipped with multiple tools to both import and export data in and out of Excel. Whether, you use the Add-in, Real-Time linking, or copy-paste, you will have a seamlessly integration between your terminal and Excel at any time and for any purpose.
Add-in for Excel
The Infront Add-in delivers the ultimate solution for Excel heavy-users. Once installed, you will have access to Infront's extensive universe of financial data directly from a ribbon in Excel. Two extremely useful tools come together with the Add-in: RTD push and the Time Series functionality.
To install the Excel Add-in, simply type 'Excel' on your terminal, and select 'Install Excel Add-in'.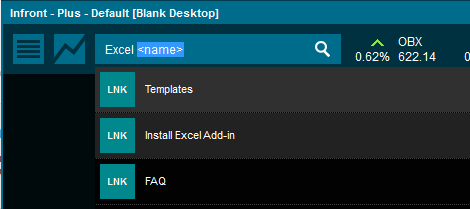 RTD Push
The RTD push functionality delivers the maximum flexibility with the new cell-referencing mode. Now, when you change the header of the column you can modify the value displayed. This new feature will allow you to easy expand your dataset with real-time values.
Historical Time Series
The new time series functionality allows you to create time series using the feed codes and symbols from the Infront Terminal.
Do you want to learn more about Infront and Excel?
Visit our FAQ