Career
Do you want to do things differently?
We rely on creative and innovative people to keep our products evolving to meet the needs of customers across Europe. Join us now as we grow to capture new opportunities.
Why join Infront
Infront offers exciting and challenging job opportunities within the financial technology sector. You will be a part of an active social environment with friendly, supportive and highly skilled colleagues. Being part of a company that is built on technological innovation, you will experience great opportunities for personal growth and fulfilling career possibilities in a fast-paced environment. At the same time, we have an informal and relaxed culture based on mutual trust, respect and cooperation. Apply to our open positions or send us an open application to become a part of the Infront culture, where contributions are recognized and achievements are celebrated.
Alex, Director IT Infrastructure & Operations
"I enjoy having contact with people in other countries whose cultural background is also different."
Julia, IT Specialist in Applications Development
"After a four-month internship in the industry, I was in no doubt: That's what I wanted to do for my career!"
Stephanie, Software Developer
"Developing new systems and so helping to make life easier – that is what fascinates me about my work."
Our values
Our values
Our core values are the foundation of our company culture: Values serve as the compass that guide us in our actions, behaviors, and decision-making processes and make it possible to deliver on our purpose and mission. Stronger together: We value teamwork as a way to share, improve relationships and achieve our goals. One company, one purpose. That requires strong relationships, built on mutual respect, genuine caring, appreciation and empathy. We seek to first understand; then be understood. Stay curious: We are forward-looking with open minds, daring to challenge conventional thinking and explore to get to the root of things. Asking "why" helps spark new ideas, leading to innovation that gives us an edge. We love to learn and are continuously improving. Own it: We take responsibility for our actions and are dedicated to finding solutions. Quick and responsive, we go the extra mile to overcome challenges. There are no excuses: If I am involved in something, I own the result.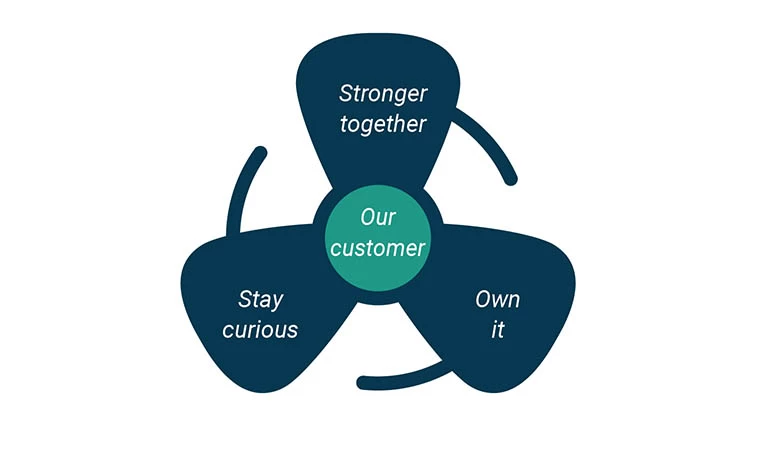 Flexible working times
At Infront we use trust-based working time in order to provide the highest possible flexibility for everyone. So you can adapt your working life to your individual needs – and not the other way round. For example, depending on the location, we offer: part-time models, flexi-time, and home office.
Modern workplace
It is important to us that you feel comfortable with us. To make work fun, we offer you a workplace with modern infrastructure and communication technologies so that you can work from anywhere. Depending on the location, our offices are equipped with height-adjustable desks and quiet and creative rooms.
Further training
Continuous learning is a key to success. In cooperation with your manager, you regularly determine at which points you need new knowledge and how to obtain it. And one thing is certain: those who get involved in our team have the chance of more responsibility and new perspectives.
Opportunities for graduates
We are a recognized training company for the apprenticeship professions 'IT Specialist for Application Development' and 'IT Specialist for System Integration' at various locations in Germany. In other regions we offer opportunities for working students, interns, and thesis projects.

Room for creativity
Along with our core values we encourage you to bring in your own ideas and always try something new. Our squad structure, bi-weekly brown bag sessions and regular hackathons are some examples of our way of working.
Perks
Depending on the region we offer:
Company events (Team events , Social, Sports)
Pension support
Extra holidays
Corporate benefits
Subsidised public transportation
Subsidised job bicycle
How can I join the team?
Does all of this sound good to you? If you are interested in working with us, have a look at the vacant positions.
We aim for a short and transparent hiring process. Sometimes the described stages may vary – our HR is agile too.